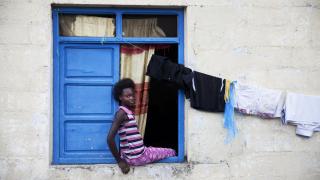 I was born in Goma in the east of the Democratic Republic of the Congo (DRC), a country fraught with security challenges and an unstable political situa­tion that has reached crisis levels.
Many people have read about the notorious levels of sexual violence here. Decades of conflict have seen rape used as a weapon of war. Like so many women around the world, we have also had to deal with sexual violence in our homes and communities.
This has had a big impact on our ability to end conflict. When conflict increases, the political participation of women decreases, and with it, the likeli­hood of peace.
We have seen this happen here. Women have been excluded from politi­cal life at every level. Article 14 of our constitution calls for gender equality in all spheres of life, yet less than 10 per cent of the DRC's parliament is female. Our role is often seen as 'home maker' rather than 'change maker'. This is deeply frustrating. It also puts the future of our country at greater risk.
Women have been recognised time and again as those who can influence change at the community level. Seventeen years ago, UN Security Resolution 1325 called for the full and meaningful participation of women in peacebuilding. I have seen no concrete evidence of this happening in the DRC.
The answer may lie in international aid priorities. Much of the substantial funding that has been put into women's participation in peace processes has argu­ably been wasted. On the front lines, we know what will work. We have seen millions of pounds go to events such as the UK Global Summit on Ending Sexual Violence in Conflict, while we scrape by with minimal funding. The UK has made efforts to be a global leader on ending sexual violence around the world, but, from our perspective, it has not yet man­aged to get funding to those on the ground who are doing most – if not all – of the heavy lifting.
In the DRC, our experience is com­pounded by the fact that neither the international community, nor our gov­ernment, has managed the basic task of keeping us safe in our own country. We are at constant risk of violence, or even death. I speak out because I feel I have no choice and I want to do what I can for Congolese women and for the future of the DRC, but my staff at Synergie des Femmes have little sense of security. My colleague was raped and both our office and my home have been raided. This is the real price that Congolese women have been forced to pay to improve our lives.
I take inspiration from women around the world who have shone as beacons of hope in what seem like impossible situations. In September, Synergie des Femmes coordinated the Congolese Women's Forum for Peace and Security. With support from the Panzi Foundation, 65 feminist leaders from around the country came together in our capital, Kinshasa, to plan a peaceful future.
Our international partner, Donor Direct Action, organised a global hour of solidarity afterwards, which linked us with inspirational global leaders, including Swedish Foreign Minister Margot Wallström; former UN High Commissioner for Human Rights, Navi Pillay; Gloria Steinem; Lena Dunham; and Meryl Streep. Over 600,000 people around the world watched the broadcast on Facebook Live. At the event, Leymah Gbowee, the Nobel Peace Prize laureate from Liberia, called the DRC "the world capital of sisterhood and solidarity". These women give me the energy to continue. Because of incredible women like Leymah, and others who sup­port Congolese women, I know that we will succeed.
Within a week of the forum, we already saw change. Eighty Congolese women (including six from our forum) were able to join peace talks in the Kasai region. This represented only 20 per cent of those in the room, but that in itself was a milestone on which we will build.
I hope that the UK, UN and other donors will see the huge opportunity that exists to fund frontline feminist groups. We are doing everything we can to make sure that the DRC has a peaceful future but we need resources.
We have risked our lives for peace in this country. Irrespective of the level of support we get, we are not about to give up. For instance, we are now calling for elections – already a year overdue – as our current president, Joseph Kabila, has exceeded the two five-year terms set out in our constitution.
Without the inclusion of women there can be no peace. We hope that the inter­national community will get behind us at last, and truly support us in our mission to lead from within. 
Photo: Congolese girl at the window of a classroom converted into a dormitory at the Maluku transit camp, May 2014 © UN Photo/Sylvain Liechti