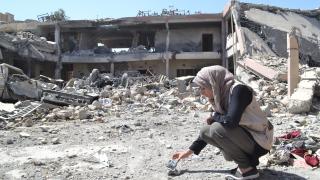 I'm an aid worker for Muslim Aid, a UK-based international development charity that works in many poverty-stricken and disaster prone countries around the world. In the last few months I've travelled deep into the heart of Mosul and Damascus, newly liberated from ISIL control, and to Myanmar's border, where Rohingyan refugees are pouring into Bangladesh.
I arrived in Mosul just two days after Iraq declared it had driven out ISIL – one of the first aid workers to reach the city. As I crouched in the rubble of a ruined school, I found a battered, light blue girl's shoe amongst bits of brick and debris; it would probably fit a six or seven-year-old. I saw a dusty toy giraffe, which made me think of my nephews who love cuddly animals. I saw a car right in the middle of what would have been a big classroom. The blasts had been strong enough to throw big trucks in the air. Later, I saw a bus lodged in a wall three storeys up in another part of the city.
Everywhere I went the air was thick – smoke mixed with sewage and something else I had never smelled before: I was told it was bodies under the rubble which had not yet been cleared, bodies which had probably been there for days. The stench was particularly strong at the school. Muslim Aid and ECHO, the European Commission's Humanitarian Aid and Civil Protection department, which supports Muslim Aid's evacuations, have quite a job on their hands.
At Hammam al-Alil camp in southern Mosul, where 8,000 families live in tents, sometimes sharing with others, I was able to see first-hand the difference that Muslim Aid has made through practical items such as stoves, blankets, mattresses, kitchen sets and plastic sheets. As we walked around, people would run up to us, begging us to help them. One woman grabbed my arm and said: "Please come and meet my father, we need the world to know." So we went to her tent.
Her father seemed very old but he was probably not older than my dad. He had an eye patch from surgery last year and a bladder problem. He clearly needed medical help. "My family were used as human shields," explained his daughter. "It was absolutely terrifying." She and the rest of the family had taken turns carrying the patriarch of the family to the evacuation point. It had taken them nine hours. I kept thinking: "What if this was my father?"
One woman told me that ISIL fighters had approached her as she was cleaning the porch of her house, with clothing covering her head to toe. They had reprimanded her for not wearing the traditional black abaya and beaten her. The Yazidi women in the camps told stories of horrific conditions under captivity, of rape, torture and complete barbarism.  
A month later in the Cox's Bazar area of Bangladesh, I couldn't get over the sheer number of people that were arriving from Myanmar: burnt, bruised, severely malnourished and weakened by their journey over the border. The overwhelming majority were women and children, with sickening stories of their male relatives being killed.
Impromptu camps were being erected in and around the documented camps. Wet mud was overflowing as a result of heavy rain – a regular occurrence in Bangladesh. It was, quite simply, the worst humanitarian situation I've thus far come across: children having to defecate anywhere they could find space because of a lack of latrines; other children running around barefoot, spreading filthy mud and disease. It was nothing less than a public health crisis waiting to happen.
Having arrived in Bangladesh just a week or so after the 25 August influx of refugees, I could already see the potential risks of so many women and children coming over the border.  Sexual violence in refugee camps, child trafficking and other crimes are not uncommon in such tense situations. Subsequent news coverage has proved that these concerns were not unfounded. UN reports tell damning stories of children being abducted as they play in the camps. 
What I've seen is harrowing – the stuff of nightmares – but I have also had the privilege, perhaps simply by virtue of being a woman, of female refugees wanting to tell me their stories. They have allowed me to hold their hands, and to comfort them. Their needs are generally simple, like lanterns so that they can relieve themselves at night with less fear of being attacked. 
These stories paint a high-octane picture of life as a humanitarian. But it isn't always adrenalin-pumping work. Often, my days are incredibly mundane. Whether it's waiting for permission from local authorities to be able to distribute aid, or dealing with some kind of procurement and logistics hold up – a lot of time in the 'field' is spent dealing with administrative issues.
In between the terror and hardship, life can be mundane for the women I meet too. Most of their days are spent ensuring that their family members' basic needs are met. But there is a big difference: they don't know when, if ever, they will be able to go home.
Photo: the author in Damascus. Credit: Muslim Aid