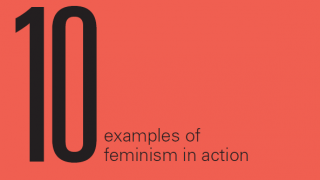 This autumn, a Women, Peace and Security Index was launched at the UN. Compiled by the Georgetown Institute for Women, Peace and Security and the Peace Research Institute of Oslo, it ranks 153 countries on: education, financial inclusion, mobile phone use, parliamentary seats, employment, discriminatory laws and norms, son bias, battlefield deaths, intimate partner violence and perception of community safety. Together, these factors provide a snapshot of women's lives inside their homes and communities, and in public life.
Iceland tops the list. The UK is 12th and the US 22nd. Jamaica (41st) and the UAE (42nd) are above Hungary and Romania (joint 46th); Namibia (48th) and Lao (54th) are above Russia (55th) and Mexico (76th). Afghanistan and Syria are tied at the bottom. But just as all countries need to do more, they all have women who are fighting for progress. Here are 10 examples from across the Index.
1. Columbia
Colombia (96th) is recover­ing from over five decades of civil war, which left around 220,000 people dead. Rates of sexual and domestic violence are high. But Colombian women have insisted on being a part of the peace process. The accords that bought an end to the war include a requirement for women to participate in transitional justice, and promote formal­ised rural property rights for women.
2. South Africa
When South Africa (51st)  embraced democracy in 1994, women set up the Soul City Programme. Using drama, entertainment and multimedia presentations Soul City has reached more than 80 per cent of South Africa's population with their message that improv-ing health outcomes, and preventing the spread of AIDS, is best achieved by community action around consent and sexual health education.
3. Iran
Women in Iran (116th) face legal barriers that affect their domestic and professional lives, from restrictions on their ability to travel to exclusion from certain jobs. Speaking out on gender discrimination can lead to imprisonment. Despite these hurdles, Iran's women lead the region in areas in­cluding education and financial inclusion, and activists have launched campaigns, such as 'One Million Signatures', to call for changes to the law.
4. Mali
Women played a vital role in bringing peace to Mali (146th). The Platform for Women Leaders of Mali worked – through the media and community engagement – to raise understanding of the peace agreement. After it was signed, they continued to lobby govern­ment on threats to their security. A new land-reform policy set aside 15 per cent of government-managed land for women's associations and other groups in need.
5. Central African Republic
In the Central African Republic (149th) there are many instances of women's groups working across ethnic and religious lines to reduce tensions and facilitate peace. In the town of Boda, Muslim women have escorted Christian women entering Muslim areas, and Christian women have done the same for Muslim women in Christian areas. Projects have been set up for different com­munities to farm jointly and participate in sport and drama activities.
6. Mongolia
Female United Nations peacekeepers from Mongolia (39th) have been protecting civilians in Sudan and South Sudan. In Darfur, more than half of the Mongolian troops are women. In South Sudan, they won a medal for actions including rescuing approxi­mately 50 internally displaced people from attempted abduction. The Head of the UN Mission said, "Mongolian peacekeepers have led the way in terms of robustness", praising the role of women in helping to empower local communities.
7. Zambia
In Zambia (111th) women are more likely to own a business than men. Female entrepreneurs are coming to the fore in all sectors of the economy, inducing previously male-dominated industries such as mining. Progress has been led by Zambian women, with support from UN bodies including the International Labour Organization and World Food Programme, which have played a role in providing advice and support for women looking to start a business.
8. Malaysia
In Malaysia (91st) a network of Muslim women set up an organisation called Sisters in Islam to make the case that Islam is a feminist religion and that patriarchal behaviour within Muslim communities and countries comes from men deliberately misreading Islamic texts. Sisters in Islam works with Islamic scholars to to oppose gender-based injustice, and to produce materials that make clear the links between Islam and global human rights standards and norms.
9. Democratic Republic of Congo
In the Democratic Republic of Congo (148th) women in the media have worked with the UN to support victims of sexual exploita­tion and abuse, and to inform communities as to how to report abuses. These community-based reporting networks have used theatre, songs, quizzes, radio dramas and cartoons in order to ex­pand and spread awareness. This year over 2,000 people were reached, and seven new networks set up.
10. Afghanistan
Afghanistan (152nd) is still one of the worst countries in the world to be a woman. But things are changing thanks to the demands of women's rights activists. At present, there are more women in senior government positions than ever before. They have also secured a review of the cases of more than 400 women imprisoned due to so-called 'moral crimes'. To date, over half have been released.
To access the Index and find out more, visit: https://giwps.georgetown.edu/the-index/