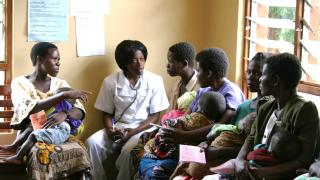 Every day, 830 women around the world die in childbirth. Despite progress in human rights, women and girls still face obstacles to accessing basic maternal healthcare, suffer violence and abuse, lack voice and legal protection, have unmet needs to plan families, and face social and economic inequalities from education to equal pay.
UNFPA – the United Nations Reproductive Health and Rights Agency – helps countries in their efforts to end preventable maternal deaths; end unintended pregnancies by meeting the demand for family planning; and end gender-based violence and harmful practices such as child marriage and female genital mutilation.
When funding stops
We rely on the support of donors, particularly governments, to deliver this mandate. UNFPA is entirely voluntarily funded – we don't receive any automatic funding from Member States. On 30 March 2017 UNFPA was defunded by the US government when it made the decision that UNFPA was in violation of the Kemp-Kasten Amendment of 1985, which prohibits foreign aid to any organisation that the administration determines is involved in coercive abortion or involuntary sterilisation.
The decision, based on the US Department of State rationale that as UNFPA has a small program in China it "supports" China's coercive population policy, is unfounded. UNFPA strongly refutes the assertion and opposes coercion of any kind, anywhere in the world. UNFPA's program in China, which was praised and approved by the United States, advocates for rights-based population policies.
US funding has been traditionally ear-marked to tackle violence against women and provide lifesaving services in the world's most complex humanitarian crises, including in Yemen, Syria, South Sudan, Nigeria and Ukraine. The generosity of the American people, as with all countries who support UNFPA's work, has made a significant difference to the lives of those most in need. The decision by the US to withdraw funding has had an immediate and devastating impact on the women and girls who rely on our services to prevent unwanted pregnancies, to access counselling for survivors of violence and to ensure safe births.
In 2016 US contributions totalled $69 million thereby saving 2,340 women from dying during pregnancy and childbirth; preventing 947,000 unintended pregnancies; funding 1,251 fistula surgeries and preventing 295,000 unsafe abortions. This was in addition to helping combat gender-based violence: huge achievements that deserve recognition.
Fighting back
Supporters rallied around UNFPA's work to ensure reproductive rights for all in the aftermath of President Trump's decision to defund UNFPA as well as to reinstate and drastically expand the Mexico City Policy (known as the Global Gag Rule), which prohibits US funding from going to any international NGO which provides abortion services or information. Millions of women (and men) have taken to the streets in many cities promoting women's rights. The birth of the #SheDecides movement has seen leaders from business and government stand with youth and civil society to champion the fundamental rights of every woman and girl. This year's Family Planning Summit, co-hosted in London by the UK Department for International Development, UNFPA and the Bill and Melinda Gates Foundation, helped reinforce the global call for women's and girls' rights with $3.8 billion announced by developing countries, $2.6 billion from donors, and $83 million from Civil Society Organisations and the Private Sector for sexual and reproductive health globally. But this support must be sustained.
Making funds work harder
During 2014-2016 UNFPA:
helped avert 93,000 maternal deaths and prevent 35 million unintended pregnancies by reaching 54 million users of family planning, of which 33 million were adolescents
avoided 11 million unsafe abortions
prevented 8.3 million sexually transmitted infections and 188,500 HIV cases
supported 23,500 midwives who attended 8.2 million pregnancies
saved 272,000 girls from female genital mutilation
helped in over 39,000 fistula repairs
reached over 16 million women and girls in crisis settings
Protracted humanitarian crises mean whole generations are growing up outside of stable societies. Meeting reproductive health needs in refugee camps and host communities is just as life-saving as food, water and shelter. With UNFPA support more than 7,500 babies have been born without a single maternal death in the Za'atari maternity ward – the largest Syrian refugee camp in Jordan. US funds covered half the running costs of this clinic.
A feminist foreign policy
Canada and Sweden are leading the way by basing their international engagement on feminist foreign policy. Sweden has made sexual and reproductive health and rights a prerequisite for reaching broader foreign policy goals on peace, security and sustainable development. And Canada has said that their values in foreign policy, trade, defence and development include the promotion of women's and girls' rights.
A feminist foreign policy provides opportunities to tackle the barriers facing women and close the gender gap, as well as open doors to reducing wider social and economic inequalities including LGBT rights and disabilities. UNFPA's 2017 State of World Population Report Worlds Apart shows how staying in education can reduce the chances of a schoolgirl becoming pregnant or marrying at a young age. This means more women entering the labour force and increasing their economic potential, boosting prosperity for all and reducing economic inequalities.
This gender-conscious approach helps decision-makers avoid imposing negative impacts on women and girls. In turn this contributes to better opportunities for education, improved access to healthcare, a more active labour force and enhanced prosperity. Essentially a foreign policy with people at the centre. This is what UNFPA, with the support of its donors and partners, endeavours to achieve.
Photo: Pirilani Semu-Banda. Copyright UN Photo.