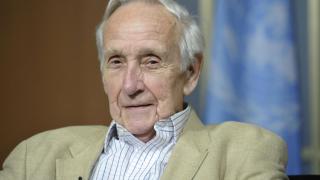 Each year, UNA-UK presents the Sir Brian Urquhart Award for Distinguished Service to the UN. The award celebrates Sir Brian's unparalleled contribution to the UN, and is presented to individuals whose work reflects Sir Brian's own dedication and endeavour.
A veteran of World War II, Sir Brian was the second person recruited to the fledgling UN Secretariat and was instrumental in creating the organisation's administrative framework. He served at the UN for four decades, playing a critical role in the direction of peacekeeping operations – notably in the Middle East, Cyprus, Kashmir, Lebanon and the Congo – and in the establishment of the International Atomic Energy Agency. Having started out as personal assistant to Trygvie Lie, the first Secretary-General of the UN, Sir Brian retired in 1986 at the rank of Under-Secretary-General, after taking over as head of Special Political Affairs in 1972. Sir Brian was a member of UNA-UK's expert advisory panel.
Recipients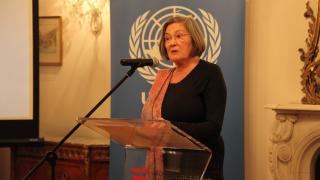 2022 recipient: Clare Short
The Rt Hon. Clare Short is a British politician and former Labour MP. She became MP for Birmingham Ladywood in 1983, subsequently serving as Secretary of State for International Development (1997-2003).
Since leaving parliament, Clare has continued to campaign on development issues, serving as a trustee of Trade Out of Poverty, the Welfare Association, and African Humanitarian Action. From 2011 to February 2016, Clare was Chair of the Extractive Industries Transparency Initiative (EITI), an NGO which works to promote public awareness of how countries manage their oil, gas, and mineral resources. She is also a patron of the Israeli Committee Against House Demolitions.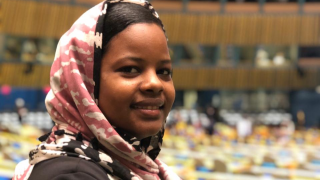 In 2021 UNA presented its first ever joint Sir Brian Urquhart Award, highlighting the importance of intergenerational solidarity for climate action.
2021 recipient: Nisreen Elsaim
Nisreen Elsaim is the first ever youth recipient of the Sir Brian Urquhart award. Nisreen is a leading climate activist and negotiator at intergovernmental climate change platforms. She is currently Chair of the UN Youth Advisory Group on Climate Change, which advises the Secretary-General on the implementation of his Climate Change Strategy.
She is also currently Chair of the Sudan Youth Organisation on Climate Change, and has mentored a number of young people. A Sudanese climate negotiator, Nisreen works to champion peace, social democracy, justice and human rights.
Nisreen has applied her degrees in Physics and Renewable Energy to a career focusing on youth engagement and policy work in sustainable development -  and was an organiser of the 2019 Youth Climate Summit. 
Read UNA-UK's interview with Nisreen Elsaim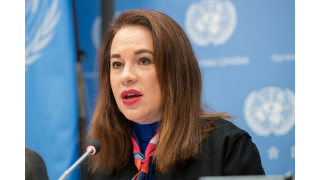 2021 recipient: Maria Fernanda Espinosa
HE María Fernanda Espinosa was the 73rd President of the UN General Assembly. She has served Ecuador as Minister of National Defence, Minister of Foreign Affairs (twice), and Coordinating Minister of Natural and Cultural Heritage. She has more than 20 years of experience in international negotiations, including on human rights, gender equality, climate change and multilateralism.
In 2008 Maria was the first woman to become Permanent Representative of Ecuador to the UN in New York, and later she became Permanent Representative to the UN in Geneva. She was a chief negotiator at both the 16th and 17th UN climate conferences, as well as the Rio +20 conference on sustainable development. Maria led several negotiation processes at the Human Rights Council, and she also chaired the Community of Latin American and Caribbean States (CELAC) in Geneva, and at COP21 on Climate Change in Paris.
Prior to her diplomatic career Maria worked with indigenous Amazonian communities in Ecuador. She holds a master's degree in social sciences and Amazonian studies and a postgraduate diploma in anthropology and political science from the Facultad Latinoamericana de Ciencias Sociales Sede Ecuador, where she was an Associate Professor and Researcher.
Maria is a member of the Group of Women Leaders Voices for Change and Inclusion, and a fellow at the Robert Bosch Academy.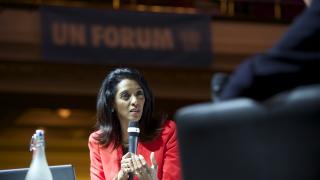 2020 recipient: Zeinab Badawi
Zeinab Badawi is a broadcast journalist and economist, who has worked in television and radio for over 25 years. She is currently the presenter of World News Today, one of the BBC World News' flagship news and analysis programmes. In 2017, she transformed UNESCO's General History of Africa into a nine-part series for the BBC, a systematic look from prehistory to the modern era of Africa's history.
She has been awarded honorary doctorates by the School of Oriental and African Studies, University of London, and also by the London College of Communications, University of the Arts London, for her services to international broadcasting. Ms Badawi is founder and Chair of the Africa Medical Partnership Fund, and currently Chair of the Royal African Society. She is a Queen's appointment to the Board of Historic Royal Palaces, a trustee of BBC Media Action and patron of the BBC World Service Trust.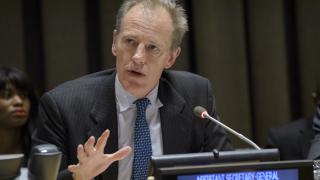 2019 recipient: Andrew Gilmour
Andrew Gilmour was the UN Assistant Secretary-General for Human Rights from 2016 to 2019. He was appointed as a senior official by Secretary-General Ban Ki-moon, leading efforts within the UN system to address intimidation and reprisals against those cooperating with the UN on human rights.
Mr Gilmour served the UN for over 3 decades, including in Afghanistan-Pakistan, Kosovo, Palestine and West Africa. He was Deputy Special Representative of the Secretary-General in Iraq and South Sudan, and Representative of the Secretary-General in Belgrade. He was also Political Director in the Executive Office of the Secretary-General (2012-16), during which time he was responsible for implementing the Human Rights Up Front initiative.
Before joining the United Nations, Mr Gilmour was an adjunct fellow of the Center for Strategic and International Studies in Washington, DC, and worked in the fields of politics and journalism. He is now Executive Director of the Berghof Foundation and a Senior Fellow at the School of Oriental and African Studies, London.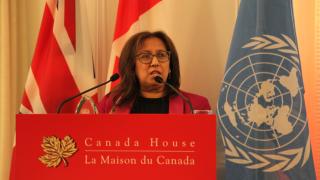 2018 recipient: Dr Purna Sen
Purna Sen was appointed UN Women Executive Coordinator and Spokesperson on Sexual Harassment and Other Forms of Discrimination in April 2018. At the time, she was serving as UN Women's Director of Policy. She has over 30 years' experience as an activist, academic and practitioner promoting human rights, feminism and social justice and combatting violence against women and discrimination in all forms.

Prior to joining UN Women, she was Deputy Director of the Institute of Public Affairs at the London School of Economics, Head of Human Rights for the Commonwealth Secretariat and Director of the Asia-Pacific Programme at Amnesty International. She has consulted with organisations including Article 19 and the British Council and held committee or advisory roles with NGOs including the Refugee Women's Resource Project and Southall Black Sisters. She was Chair of the board of the LGBT charity Kaleidoscope Trust and a member of the board of the Commonwealth Human Rights initiative.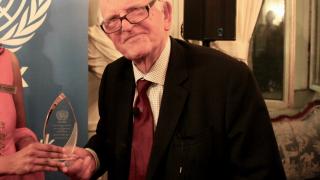 2017 recipient: Lord Judd of Portsea
Frank Judd was made a life peer in 1991. A lifelong champion of international cooperation, Lord Judd has made a seminal contribution to public life in the UK through his roles in the voluntary sector, Labour Party, government and Parliament.
Having served in the Royal Air Force in 1957-59, he became Secretary General of International Voluntary Service in 1960, going on to be Director of Voluntary Service Overseas (1980-85) and Oxfam (1985-91). In between, he was MP for Portsmouth West and Portsmouth North (1966-79), and served as Minister of State at the Foreign & Commonwealth Office from 1976-79.
He has been active in a number of committees, as well as the UN All-Party Parliamentary Group, and continues to be involved with a range of charities, including UNA-UK.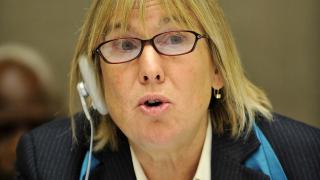 2016 recipient: Professor Christine Chinkin
Professor Christine Chinkin, is Emerita Professor of International Law at the London School of Economics, where she is also Founding Director of the Centre for Women, Peace and Security. A barrister and member of Matrix Chambers, Professor Chinkin has made a tremendous contribution to the UN and its principles in numerous capacities, including as an academic – with influential works on human rights, and women's rights in particular – and as a practitioner, especially in the areas of justice and accountability. As a founder of the Centre for Women Peace and Security at LSE, Christine Chinkin has not only been central to raising the issue of gender-based violence in conflict as a threat to international peace and security, but also the lack of accountability for crimes of sexual exploitation and abuse.
Professor Chinkin has shown courage in taking on some of the most difficult tasks in connection with the UN. In her role on the 2009 Human Rights Council Fact Finding Mission on Gaza, she contributed to the investigation into alleged violations of international human rights law and international humanitarian law in the Palestinian territories. Her work on the Human Rights Advisory Panel for the UN Mission in Kosovo (UNMIK) has spanned the past six years. The panel was one of the first human rights complaints mechanisms to examine alleged violations by an international mission, and it has been vital in its work to ensure that international human rights standards are upheld at all times by UN personnel. After considering over 500 cases, Professor Chinkin and her colleagues concluded that the UN had failed to comply with human rights standards and recommended it pay adequate compensation to the complainants.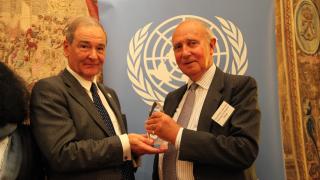 2015 recipient: Lord Hannay of Chiswick
Lord Hannay is Co-Chair of the UN All-Party Parliamentary Group. He joined the UK Diplomatic Service in 1959, with initial postings to Tehran and Kabul. He was involved in the negotiations that led to the UK's entry into the European Communities and then served at the UK embassy in Washington DC (1984-5) before becoming Permanent Representative to the European Economic Community (1985-90).
From 1990 until 1995 he was UK ambassador to the UN. He was then UK Special Representative for Cyprus and, in 2004, served on the UN Secretary-General's High Level Panel on Threats, Challenges and Change, which proposed reforms including the Human Rights Council and Peacebuilding Commission. In 2001 he was was appointed as a Life Peer and in 2003 he was made a Companion of Honour. He is also a member of the Top Level Group of UK Parliamentarians for Multilateral Nuclear Disarmament and Non-Proliferation and a previous Chairman of UNA-UK.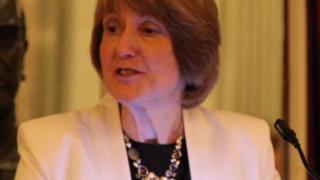 2014 recipient: Lynn Davies
Lynn Davies is Emeritus Professor of International Education at the University of Birmingham, where her interests are in the fields of education and conflict, education and extremism and education in fragile contexts. Her publications include Unsafe Gods: Security, Secularism and Schooling.
She taught at primary, secondary and higher levels in the UK, Mauritius and Malaysia before moving into teacher education, with a focus on citizenship and children's rights. Her work includes projects in Bosnia, Kosovo, Palestine, South Africa and Sri Lanka; the production of OSCE guidelines on countering Islamophobia in schools; and, in the UK, work on preventing extremism and radicalisation. Professor Davies has served as a trustee of UNICEF UK and worked with UNESCO on its Associated Schools programme in the UK and internationally.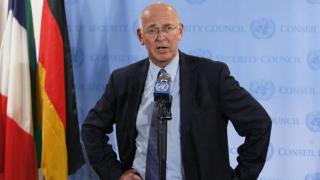 2013 recipient: Ian Martin
In a career spanning more than four decades, Ian Martin has worked to promote human rights, conflict prevention and peacebuilding, through the United Nations and through non-governmental organisations, most notably Amnesty International, where he served as Secretary-General from 1986 to 1992.
He has headed United Nations missions in several countries, serving as Special Representative of the Secretary-General in East Timor (1999), Nepal (2007-9) and most recently Libya (2011-2), and has held other senior UN appointments regarding Gaza, Ethiopia and Eritrea, Rwanda and Haiti. Most recently, as Head of the UN Support Mission in Libya, tasked to assist with a range of duties including electoral assistance and police development, he was present in Tripoli as the National Transitional Council, with whom he had worked closely, handed over power to the General National Congress.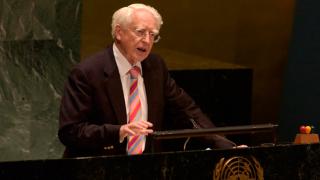 2012 recipient: Sir Richard Jolly
Sir Richard was an Assistant Secretary General of the United Nations, and held senior positions in UNICEF and UNDP for nearly 20 years. In 2001 he received a knighthood for his contributions to international development.
From 1996 to 2000 Sir Richard was a Special Adviser to the Administrator of the United Nations Development Programme (UNDP), where he was instrumental in the creation of the Human Development Report. Prior to this, Sir Richard served as Deputy Executive Director of UNICEF. He worked tirelessly to combat child mortality, as well as leading the agency's efforts to ensure that economic adjustment policies reflect the needs of women and children. Sir Richard was also concerned with reform and collaboration among UN agencies, directed towards reducing malnutrition and improving access to hygiene, sanitation and water worldwide.
As co-director of the UN Intellectual History Project, Sir Richard is currently overseeing and working on a 16 volume history of the UN's contributions to economic and social development since 1945. He is also a former Chairman of UNA-UK.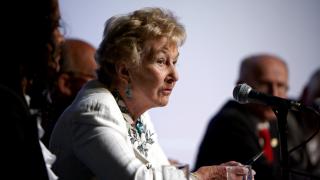 2011 recipient: Dame Margaret Anstee
After a spell in the British diplomatic service, Dame Margaret joined the United Nations where she served for more than four decades, rising to the rank of Under-Secretary-General. She was the first woman to reach this position and the first woman to head a UN peacekeeping mission.
Over the course of her career, Dame Margaret lived in 15 countries and visited over 130 on official missions. From 1952 to 1987 she directed operational programmes for economic and social development in every developing region of the world. She was then appointed Director-General of the UN in Vienna and, until 1992, served concurrently as Head of the Centre for Social Development and Humanitarian Affairs and as the coordinator of all UN narcotic drug control programmes. From 1992 to 1993 she was the UN Secretary-General's Special Representative to Angola and head of the UN peacekeeping mission there (UNAVEM II: the UN Angola Verification Mission).