You are here: Pierre Krähenbühl on a global commitment to life in Gaza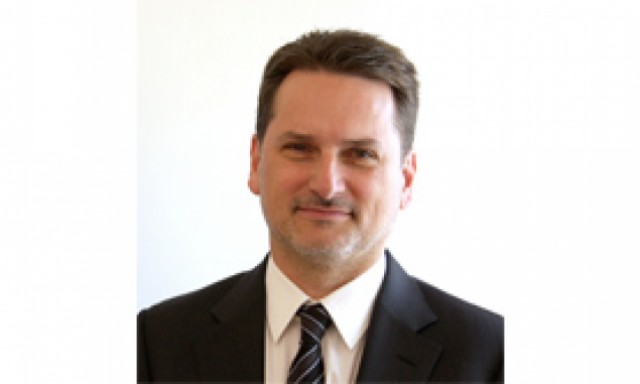 "It is difficult to accept that my whole life and all my hard work have disappeared in a single moment and that one room – a classroom in a UN school – is the place where I, my husband and six children must call home", says 34 year old Hazar Al Jazar, her voice quivering with emotion.
"The war ruined my life, stole my peace, my dignity, and my stability. I want my life back."
Hazar's family is from Shujaya, a neighbourhood in northern Gaza that was heavily bombed during the conflict in July and August last year. They fled and have since been accommodated in schools set up by the United Nations Relief and Works agency for Palestine Refugees in the Near East (UNRWA).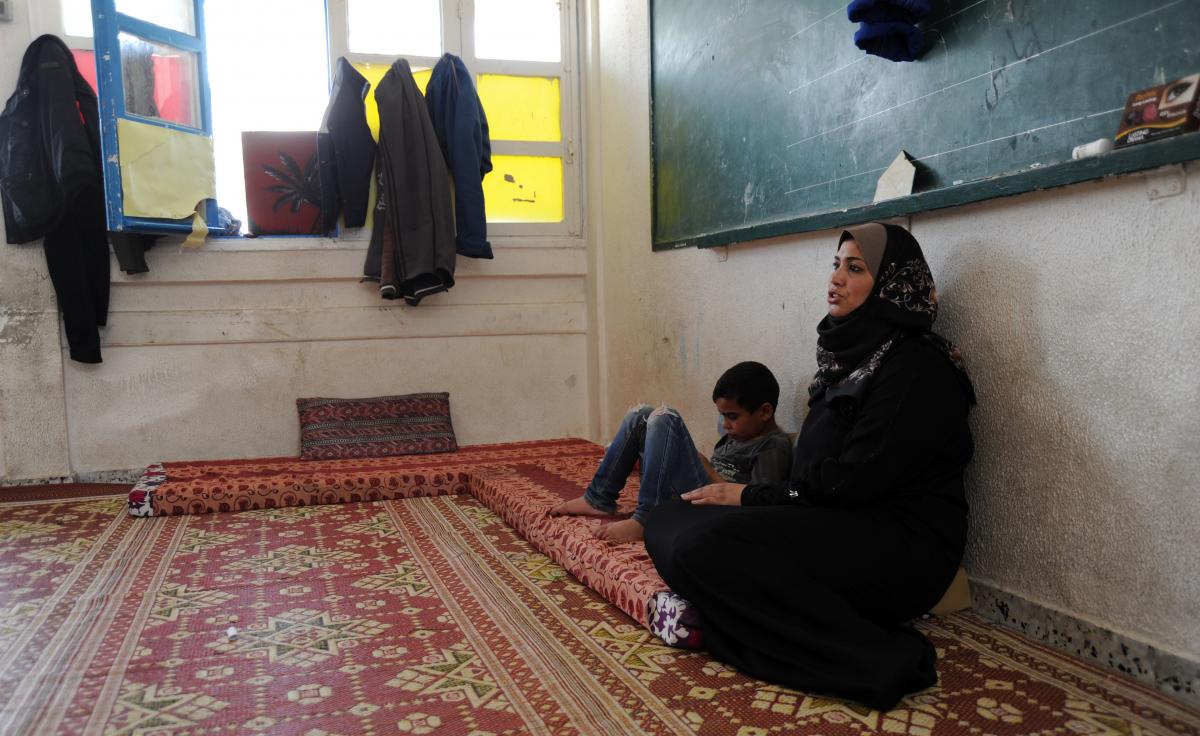 Photo: Hazar speaks to UNRWA from her new home, a classroom in a UN school. Copyright UNRWA
Hazar dreamed of moving back to her house. Yet when she went with her husband to check on it, she could not recognise her neighbourhood. "The door of the house was closed as I left it, but when I opened it, there was nothing behind. There was complete emptiness", she said. Hazar's story is far from uncommon. We estimate that 138,000 refugee houses were damaged during the summer hostilities. Of those, over 18,000 were totally destroyed or suffered severe damage.
Everywhere I travel, in the Middle East or beyond, I am asked about the situation for the people of Gaza. It is devastating. Over 1.1 million people are dependent on food assistance. Considering that the vast majority of the population is educated and wishes for nothing more than to work and be self-sufficient, this is a figure of shame. The blockade imposed by Israel is preventing this from changing.
Over 120,000 people remain homeless in the Strip following last year's terrible war. To think that almost 12 months later not a single destroyed home has been rebuilt is shocking. This is due partly to a lack of funds, partly due to the mechanism for reconstruction. But resolute action is also needed in terms of lifting the blockade, of intra-Palestinian cooperation and of donors concretely living up to the pledges made at the Cairo donors conference in October last year.
UNRWA has shown its ability to get things done with the money it receives, carrying out repairs which benefitted 60,000 families. But we are able to do so much more.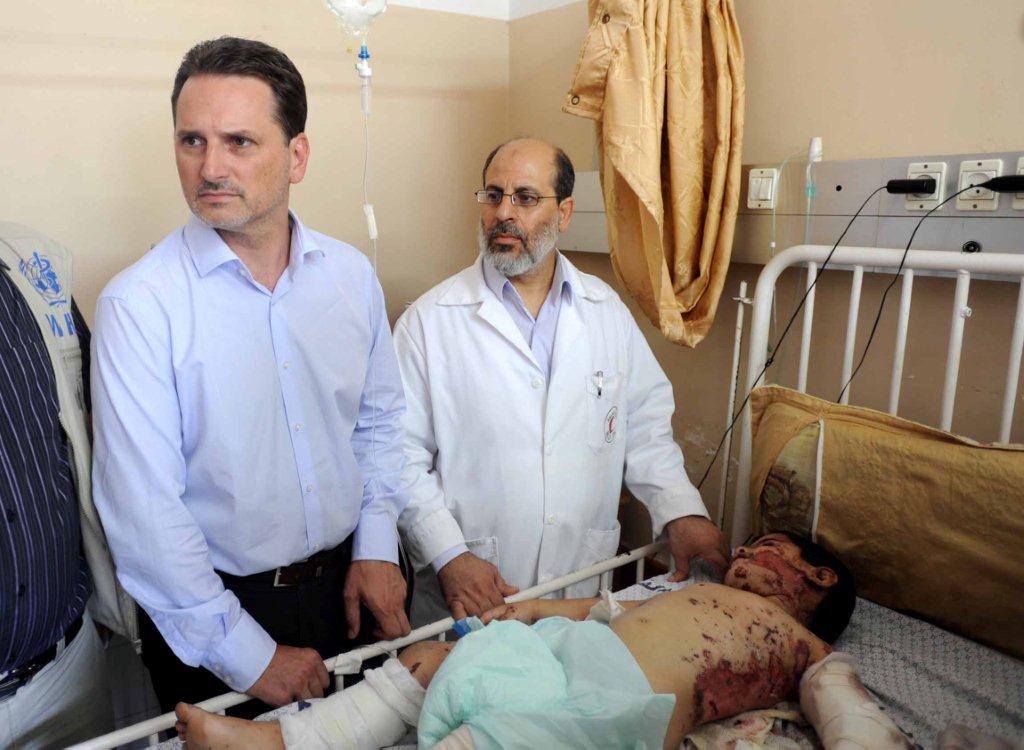 Photo: Pierre Krähenbühl with a Palestinian child in Gaza. Copyright UNRWA
Indeed, UNRWA currently simply does not have the money to help Hazar and many others, and it hurts. After the Cairo conference our objective was to repair or reconstruct refugee homes and pay rent to families whose houses were uninhabitable. The total programme cost was US$ 720 million. But only US$ 216 million was been pledged, leaving a shortfall of over half a billion dollars.
People in Gaza are like people everywhere else in the world. They look for security, dignity and recognition of their rights. They have the same dreams and expectations as others. Today, however, they face a total lack of prospects and nowhere to go. With 65 per cent of the population in Gaza under the age of 25, I fear the dynamics are in place for new escalations of frustration and despair.
I am often told that there is reluctance in some countries to invest money in rebuilding Gaza since everything could be destroyed anew. While I understand the concern, I am convinced that to hold back on funding for reconstruction and on engaging in political action to resolve the underlying causes of the conflict and occupation is wrong.
As crises multiply in the region, from Syria and Iraq, to Yemen, Libya and the Mediterranean, it may be tempting to think that "at least things in Gaza are quiet for the moment" as I heard someone say recently. My call – on the contrary – is to mobilise now to rebuild Gaza; to help people like Hazar and her family; and combine this with renewed political action to address the wider issues of occupation, blockade and conflict.
If we choose to continue closing our eyes to this problem, we should beware of how the landscape will look when we reopen them.
Pierre Krähenbühl is Commissioner General of the United Nations Relief and Works Agency for Palestine Refugees in the Near East