You are here: The last word: Alexandra Heinsjo Jackson on the rights of disabled persons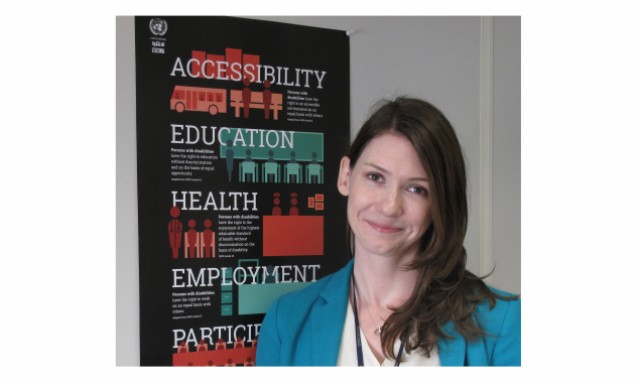 Tell us how you came to join the UN Economic and Social Commission for Western Asia (ESCWA)
My engagement in UN issues really took off with internships at the Save the Children UN Office and the Delegation of the European Union to the UN in New York, followed by a position at the European Commission's Humanitarian Aid and Civil Protection Department. This is when I first learned about the UN Young Professionals Programme (YPP), and after passing the examination in 2012, I was recruited to the ESCWA office in Beirut where I have been working for the past two-and-a-half years.
Having gone through the process, I have seen first hand the kind of opportunities that the YPP offers to people at the beginning of their careers. I got to move to a new and exciting duty station, develop my expertise and skills and engage with a region that has undergone unprecedented change over recent years.
Tell us a bit about your work
ESCWA is the UN's development arm in the Arab region, and we work to strengthen cooperation among countries to achieve equitable, inclusive and sustainable development. As ESCWA's disability focal point, I conduct research, organise events and advise governments on ways to promote the inclusion and rights of persons with disabilities.
In this role, I have had the opportunity to be part of a number of exciting projects. Last year, we launched a major publication entitled 'Disability in the Arab Region: An Overview', which is the first report to compile and analyse disability statistics for all 22 Arab countries.
What has been your best day on the job so far?
Probably the International Day of Persons with Disabilities in December last year. We partnered with five other UN agencies in Lebanon to organise a large event on persons with disabilities in humanitarian crises. We had a large audience and got significant media coverage, and most importantly we managed to shine a light and raise awareness on a hugely neglected issue. In doing so, I think the event demonstrated the power and impact that the UN has when we speak and act as one.
What are the biggest challenges you face in your work?
Working in the Arab region brings with it many opportunities but also several challenges. One of the most crucial ones is the impact of armed conflict and instability. The region is grappling with a number of complex crises, which are giving rise to tremendous humanitarian and development needs that affect millions of people. These situations also create difficult operating environments, which definitely has an impact on our work but also makes our role and presence all the more important.
How does disability intersect with other issues?
Disability is very much a cross-cutting issue. Whether you look at education, housing or any other development sector, persons with disabilities have rights, needs and voices that need to be fully included.
It is also important to recognise the diversity among persons with disabilities, who are defined by a wide variety of characteristics including gender, age, ethnicity, etc. These factors often interact to create different barriers and varying levels of inclusion.
For example, women with disabilities in the Arab region tend to face higher levels of discrimination than men with disabilities, which leads to more limited access to education and employment, as well as increased protection concerns.
What are the prospects for the inclusion of disability issues in the Sustainable Development Goals (SDGs)?
Organisations of persons with disabilities and other actors have been actively involved in the ongoing discussions leading up to the expected adoption of the SDGs in September. A lot of progress has been made as a result and the proposed goals currently contain all of seven disability-specific targets.
The big challenge will be translating these aspirations into concrete action. We will need more accurate and reliable disability data in order to effectively monitor progress, with solid indicators for measuring the inclusion of persons with disabilities against all goals and targets.
Success will also depend on the extent to which governments promote and ensure the participation of persons with disabilities in the formulation, implementation and monitoring of development policies and programmes.
Finally, what does the future hold in store for you?
Working for the UN is a lot about flexibility and learning skills that you can apply to different contexts. As such, I hope to get the opportunity to serve and contribute to the work of the Organization in various duty stations. I would also love to continue my work in the field of human rights, in particular as they relate to persons with disabilities.
Alexandra Heinsjo Jackson is an Associate Social Affairs Officer at ESCWA, where her work focusses on the rights of persons with disabilities. She has an undergraduate degree from McGill University and a master's degree from Uppsala University