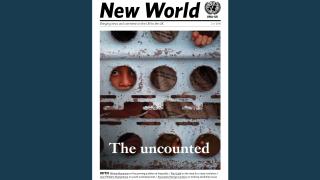 The second issue of New World for 2015 has been published as a double issue alongside 'The UN at 70'.
Over the coming weeks, member states will complete the final stages of negotiation over a draft sustainable development agreement, expected to be adopted in September. But before embarking upon the next era of development, it is clear that we need a much more precise understanding of the state of the world today. For how will we know how far we've come in 2030 if we do not know what our starting point was in 2015? To put it simply, New World editor Hayley Richardson argues that a global stock-take is needed.
In this issue of New World we explore a number of the key demographic trends shaping the world we live in today. The issue also looks at the hurdles that must be overcome if we are to make any progress in these areas: Winnie Byanyima of Oxfam International tackles inequality; our Chairman Sir Jeremy Greenstock calls on greater commitment from the UN Security Council; Paul Ladd from UNDP explains how we can improve data collection and our essay explores the need for diversified development finance.