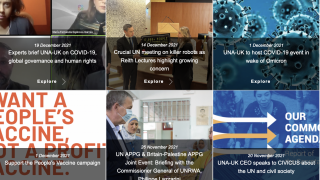 As another turbulent year comes to a close, we wanted to look back at some of the achievements of UNA-UK. Our 2021 highlights include:
1. Presenting our first ever intergenerational UN Day award
On Thursday 21 October, UNA-UK marked UN Day by presenting the first ever joint Sir Brian Urquhart Award to HE María Fernanda Espinosa (73rd President of the UN General Assembly) and Nisreen Elsaim (Chair of UN Secretary General's Youth Advisory Group on Climate Change). Honouring their dedicated work on the climate, this year's award came not in the form of a trophy, but as donations to the Eden Reforestation Projects.
2. The incredible work of our network of members and UNA Groups
Across the UK, our passionate network of members and UNA Groups continue to advocate and organise on the big challenges facing the world – amplifying our voices and broadening our reach. Read about action taken by one of our most active UNA Groups, UNA Climate & Oceans, in the lead-up to the UN Climate Change Conference.
3. Providing detailed scrutiny of the Government's Integrated Review
Throughout the year, UNA-UK reported on the process for creating the Government's Integrated Review, billed as the most significant review of foreign, development and defence policy in recent decades. Read UNA-UK's response to the review, as well as our briefing comparing the practice of the Integrated Review, produced jointly with Rethinking Security.
4. Action with the Campaign to Stop Killer Robots
UNA-UK has campaigned on this issue since 2013 and is a proud member of the Campaign to Stop Killer Robots. This year we were thrilled to launch our parliamentary champions network - an initiative which demonstrates a growing momentum for action and which we hope will increase scrutiny of the UK's approach to autonomous weapons systems. Read our round-up of recent UN developments here
5. Bringing people together from across the world – for events on climate, health, UN inclusion, peace and more
UNA-UK has continued championing a broad range of voices, connecting people across borders, sectors, and generations by hosting accessible events on important issues. You can watch our most recent event on COVID-19, Global Governance and Human Rights in partnership with our London & South-East Region, our Peacekeepers Day event with RUSI and more via our YouTube page.
6. Shaping the UN Secretary-General's report: Our Common Agenda
Building on our contribution to the UN's 75th anniversary consultations, we took part in the follow-up process to press for priorities such as a high-level UN civil society champion. We engaged with Member States and UN officials ahead of the publication of Our Common Agenda and were delighted to see a number of our recommendations included in the report. As our CEO noted in an interview with CIVICUS, we will continue to campaign for progress.
7. Marking the arrival of United Nations Green
We were delighted to join UNA Westminster in the exact place where the UN first met in 1946, to celebrate the naming of United Nations Green – the only location in the United Kingdom to be named after the United Nations.
8. Speaking out on UK aid cuts
UNA-UK was deeply disappointed that the government dropped the UK commitment to spend the UN target of 0.7% on Official Development Assistance. Throughout the year, we have continued to be a strong voice highlighting the impact of cuts on countries such as Yemen and the global work of bodies including the United Nations Population Fund, the UN Relief and Works Agency, and, most recently, the World Bank International Development Association.
9. Pushing for civil society inclusion
Ensuring that the voices of "we the peoples" are heard at the UN is a thread that runs through our work. We released a briefing on inclusive multilateralism, pressed for NGO access to the UN in New York to be restored and worked with our partner, Plataforma CIPÓ, to publish a report on effective participation by Global South activists in COP26 and other UN climate conferences.
10. Building a climate action programme  
In response to feedback from our members, we started building a climate action programme ahead of COP26 — with events, materials and campaign actions released throughout 2021. The latest edition of UNA-UK's magazine sounded the alarm on 'code red for humanity'; during COP26 we held events on women and climate change, and raising ambition on climate action, and our CEO spoke at the first-ever Global Citizens Assembly on climate change.
11. Making progress on merit-based UN appointments
The General Assembly adopted res. 75/325, making significant progress on institutionalising crucial gains to the UN Secretary-General selection process achieved in 2015/16 and headway on outstanding issues identified by 1 for 7 Billion.
12. Appointing UNA-UK's first female Chair
As UNA-UK's current Chair, Lord Wood, completes his six-year term with the organisation in June 2022, we are delighted to announce that Baroness Anelay, former Minister for the UN, will become our first female Chair.