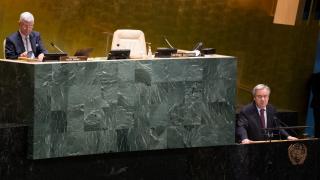 On 7 May incumbent Secretary-General António Guterres laid out his vision for a second term in office at the General Assembly in New York.
In response to a question from the European Union asking for elaboration on how the Secretary-General will be able to realise his vision for a more inclusive and networked United Nations in relation to youth and civil society, the Secretary-General identified a need for:
"a mechanism to make sure that we integrate [civil society] contributions in our strategic thinking, in our decision-making process. And this is the next step."
While noting that the status quo is insufficient, Mr Guterres remarked that "we need to have more ways in which these key partners in today's societies are able to have an influence on our own decision making process". 
We are delighted that Mr Guterres has championed deeper inclusion of civil society in the UN's work and that he supports the creation of a new mechanism to facilitate this interaction. Last year our Together First campaign launched a dedicated report presenting the case for such a mechanism, to be spearheaded by a senior UN focal point for civil society. The report followed a year-long consultation on how to bring new voices into UN decision-making processes which identified the idea as a leading contender to facilitate better inclusion.
More recently, 50 states and over 200 NGOs have supported the #UNmute initiative, which calls for the creation of a Special Envoy for Civil Society to support inclusive, meaningful and consistent civil society participation across the UN. Together First is delighted to have endorsed this initiative, which is co-convened by Costa Rica and Denmark together with civil society organisations, including Together First partner Civicus.
With the Secretary-General's support on this agenda it is clear this is an idea whose time has come. UNA-UK will work through Together First and its roughly 200 partner organisations to campaign for this proposal's inclusion in the Secretary-General's Our Common Agenda UN75 concluding report, to be published in September 2021.
Get involved!

Photo: UN Secretary General António Guterres (right) addresses the General Assembly as part of the selection process for another term as the UN Chief. Credit: UN Photo/Eskinder Debebe