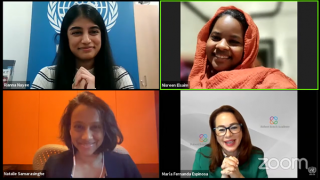 On Thursday 21 October, UNA-UK marked the UN's 76th anniversary by presenting the Sir Brian Urquhart Award to HE María Fernanda Espinosa, the 73rd President of the UN General Assembly, and Nisreen Elsaim, Chair of UN Secretary General's Youth Advisory Group on Climate Change. 
This year UN Day came at a key moment for action to address the existential threat of climate change - with world leaders and stakeholders gathering in Glasgow for COP26. To meet this moment, we were delighted to present the first ever joint Sir Brian Urquhart Award, highlighting the importance of intergenerational solidarity for climate action. 
Named in honour of a former UN civil servant whose service spanned four decades, the award celebrates individuals whose work reflects Sir Brian's own dedication and endeavour. Honouring their dedicated work on the climate, this year's award came not in the form of a trophy, but instead as donations to the Eden Reforestation Projects.
Natalie Samarsinghe, CEO of UNA-UK, presented the award. Introducing María Fernanda Espinosa, Ms Samarasinghe stressed the need for a just transition, and the importance of solidarity for the climate:
With this joint award we want to stress the importance of intergenerational action, the importance of work across regions and sectors. And we also want to stress the importance of solidarity between women who are on the frontlines of climate action around the world.
María Fernanda Espinosa gave the keynote address, focusing on urgent collective action for the climate. Highlighting the disproportionate impact of climate change on those most vulnerable, she broke down how the crises we face today are symptoms of a global system in need of renewal:
Climate change and Covid-19 are both symptoms of a dysfunctional global system whose institutional and ideational structures are no longer capable of ensuring healthy and sustainable relationships - between society, the economy and nature. 

Human made crises should have human made solutions… We need concerted collective global responses and action to deliver the global public goods that people need and deserve. For that to happen the UN needs to be rejuvenated and reformed. We need a values-based global governance system.
UNA-UK was honoured to be joined virtually by HE María Fernanda Espinosa and Nisreen Elsaim for a discussion on the need for just and rapid climate action, moderated by UNA-UK's Communications Coordinator Rianna Nayee. 
Nisreen Elsaim, the first ever youth recipient of the Sir Brian Urquhart Award, shared her perspective as a young climate advocate:
It's very important to have this intergenerational relationship - not only because of the experience that the previous generations have, but also to avoid repeating the mistakes of the past. We don't have time for mistakes anymore! 

I am very honoured to receive this award from UNA-UK, but even more glad to be the first young person to receive this award. This is a great acknowledgement of young people's role in pushing and advancing action on climate change.
Nisreen highlighted positive progress made at the UN this year, including UNSG António Guterres' commitment to appoint a future generations envoy, and the Human Rights Council declaring that a clean, healthy environment is an essential human right. She also stressed that more needs to be done - calling for the UN Security Council to take similar action to address climate change, peace and security. 
Discussing her hopes for COP26, Nisreen said: 
We are not looking for perfection, we are aiming for sufficient. If the document, declaration, and action is sufficient it does not have to be perfect! But we can aim for enormous joint work - we need all of us. It's our mandate and our moral obligation to save this planet - for us and future generations.
Watch the full event:
In addition to the Eden Reforestation Projects donation, we have asked the awardees to suggest a project in their home countries they would like us to support. To learn more about their chosen projects, watch this space!
Read more:
Clockwise from top left: Rianna Nayee, Nisreen Elsaim, HE María Fernanda Espinosa and Natalie Samarasinghe at the UN Event.