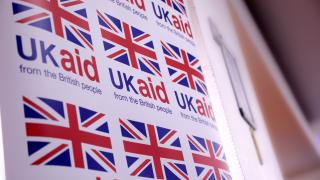 UNA-UK is deeply disappointed that MPs approved the cut to UK aid earlier this week, despite significant cross-party opposition.
The UK committed to the UN target to spend 0.7% of its Gross National Income (GNI) on Official Development Assistance in 1970. It took 43 years to reach it. In 2015, it was enshrined into law by the Conservative government. 
Cutting UK Aid to 0.5% - a 29% reduction on the 0.7% target -  has serious consequences for some of the world's most vulnerable people, including:
Slashing aid threatens our own safety and well-being. It hurts our ability to fight the climate crisis, prevent global security threats, recover better from the Covid-19 pandemic and achieve the Sustainable Development Goals for all - including here in the UK. 
It also suggests that government actions are not following the priorities outlined in the UK's recent Integrated Review of security, defence, development and foreign policy. The cuts are sharply at odds with the UK's vision of a "Global Britain" as a "force for good" and "soft power superpower", and a leader on climate action ahead of COP26.  
The cuts have been described as a "temporary measure" -  research by the IFS suggests the conditions agreed to yesterday may not be met for many years, and were met just once in the past 7 years.
While the pandemic has placed significant financial strain on the British Government, development spending should not be seen as a competing priority. As the UK and other G7 countries agreed just last month, "no one is safe until we all are". The fact that our commitment is a percentage means we already have a mechanism for reducing aid when faced with budgetary pressures. Aid spending already dropped last year as the economy contracted. 
UNA-UK has over 30,000 members and more than 100 community groups across the UK - including in some of the poorest areas of the country. They are proud of the UK's role as a leading donor and call on the Government to reinstate 0.7%.
Read more:
Photo: UK aid logo. Credit: DFID/Rich Taylor