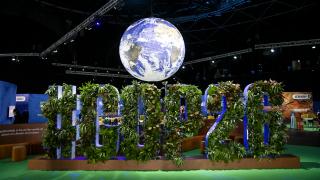 UNA-UK is delighted to be hosting two climate-focused events during COP26.
At this critical moment for action to protect people and the planet from the existential threat of climate change, join us for discussions on the Paris Agreement and on Women, Peace and Security.
From Local to Global: Raising ambition and taking action to uphold the Paris Agreement
Nov 9, 2021, 18:00 - 20:00 GMT
Location: University of Glasgow and Virtual
As we await the outcomes of negotiations during COP26, a session hosted by UNA-UK, IMSISS, and Global Challenges Foundation will explore a range of practical actions for keeping 1.5 degrees alive at local and global levels, such as: promoting recommendations for UN Security Council action on climate and security; local initiatives for organisations to adopt; how governments can be held to account; recommendations for global climate governance; and actions that individuals can take. With an expert panel from across different sectors, this session promises a dynamic, action-focused discussion. 

Panellists include:
Giovanna Kuele, chair, researcher at the Igarapé Institute
Maiara Folly, programme Director Plataforma Cipó
Jimena Leiva Roesch, Head of Peace and Sustainable Development and Senior Fellow at the International Peace Institute (IPI)
Linda Burenius, Head of Development, Global Challenges Foundation 
Christian Tams, International Law Chair and Director, Glasgow Centre for International Law and Security
Join us virtually! In-person tickets are sold out, but you can register here to attend online
Climate Change and Women, Peace and Security: Defending the Future
10 Nov, 14:15 GMT
Location: Virtual
2021 is the 26th UN Climate Change Conference of Parties (COP 26). This year also marks the 21st anniversary year of Women, Peace and Security (WPS) bringing together the same set of actors to achieve the goal of gender equality and women's participation. There is an urgent need for the WPS agenda to intersect with the risks posed by climate change to women and girls' peace and security in conflict and post-conflict settings.
This event will bring together a panel of experts to discuss the gender-climate-security nexus, and how the global community can better integrate agendas in these areas to address risks posed to those most vulnerable. 
Click here to register
Photo: The COP26 Globe at the Hydro. Credit: Karwai Tang/ UK Government