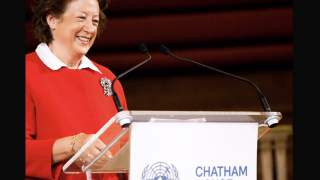 UNA-UK is delighted to announce that Baroness (Joyce) Anelay of St Johns DBE will become its first female Chair. She will succeed Lord Wood of Anfield, whose term will end in June 2022.
I welcome the opportunity to work alongside the UNA-UK team and country-wide members in building strong external relationships at local, regional and international level. UNA-UK plays a vital role in ensuring that policy-makers, opinion-formers and the public understand the importance of upholding the values and philosophy of the UN Charter.
Baroness Anelay brings a wealth of experience to UNA-UK — having held numerous roles in Government, Parliament, civil society and education. Born in London, she began her career as a history teacher (1969-74), before joining the Citizens' Advice Bureau (1976-2010). During this period, she also served as a Justice of the Peace for Surrey, a member of the Social Security Appeals Tribunal and Child Support Appeals Tribunal, as well as a member of the Women's National Commission. She also chaired the Conservative Women's National Committee from 1993 to 1996.
She was made Dame Commander (DBE) in 1995, before being created a Life Peer in 1996 — marking the start of a prolific parliamentary career, which has included stints on the Joint Committee on Security and Procedure and Privileges Committee, as well as serving as a Deputy Speaker (Lords).
Between 1997 and 2010, she held various Conservative front bench posts, including Shadow Minister for Culture, Sport and Media and Opposition Chief Whip. After the General Election in May 2010, she was appointed Government Chief Whip before taking over as Minister of State in the then-Foreign & Commonwealth Office in 2014 and attending Cabinet. She succeeded William Hague as the Prime Minister's Special Representative for the Preventing Violence in Conflict Initiative. She also served as Minister of State for International Development. Her Ministerial portfolio included the United Nations and she worked closely with UNA-UK on key initiatives - such as the 1 for 7 Billion campaign, combating sexual violence in conflict, UK engagement in UN peacekeeping, and visits to the UK by Secretaries-General Ban Ki-moon and António Guterres.
After stepping down from the front bench in 2017, she stepped up her engagement with the United Nations All-Party Parliamentary Group and the International Relations and Defence Committee, which she currently chairs. Her work has covered a number of UNA-UK priorities, including the 2021 Integrated Review, nuclear non-proliferation and disarmament, COP26, human rights, and Afghanistan.
Photo: Baroness Anelay speaks at a joint UNA-UK/Chatham House event with UN Secretary-General Ban Ki-moon in 2016.