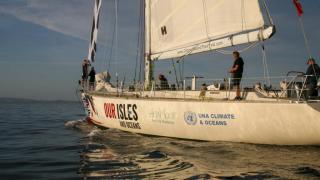 UNA-UK is delighted to share action taken by UNA Climate and Oceans – a vibrant volunteer-led strand of UNA-UK's network – during the lead-up to the UN Climate Change Conference. This report is written by UNA Climate and Oceans' coordinator, Marine Biologist and Oceanographer Gonzalo Alvarez.
It has been a busy summer for us! The United Nations Association Climate & Oceans has announced its partnership with the Our Isles and Oceans offshore sailing project. Our Isles and Oceans launched at the beginning of June 2021 and is an organisation built to create funded training programmes for young people affected by the pandemic and subsequent lockdown.
Our Isles and Oceans' mission statement is 'Youth Opportunity and Professional Development for Sustainable Livelihoods.' It intends on, through the vehicle of sport and business, highlighting the importance of a sustainable future for the next generation in partnership with the United Nations Association Climate and Oceans as the UN heads into a Decade of research on Ocean Science for Sustainable Development (2021 - 2030). It is also one of the first organisations announced as a Clipper Race Team Partner in the Clipper 2023-24 Round the World Yacht Race. Applicants will learn to sail on board a Clipper 68 training yacht around the west coast of Scotland and will be in with a chance to become a team member on the Clipper 70 racing yacht competing in the Clipper 2023-24 Race.  
UNA Climate and Oceans and Our Isles and Oceans intend on educating young people on the science behind our oceans and the future of the planet. The organisations will work together to educate their ambassadors and to work with other sustainable associations in the hopes of building a brighter future for the next generation.
In early July 2021 UNA Climate and Oceans sent one of our Youth Ambassadors, Jemma Sargeant (Marine Biology student), to the launch event in Largs Yacht Haven (Scotland) to speak about sustainability of the ocean, and to start a conversation about steps we can take against climate change with Our Isles and Oceans' Ambassadors.
Jemma commented: "Advocating for sustainability through the vector of sport is an exciting step towards a greener future. The Our Isles and Oceans Initiative teaches people to work with the ocean rather than against it, something which is incredibly important in the conservation of our seas.
The United Nations Association - Climate and Oceans is looking forward to seeing what the future holds for this partnership, and I wish all the ambassadors the best of luck in their endeavours."
Photo: A Clipper 68 training yacht with the UNA Climate and Oceans Logo. Credit: Gordon Ritchie, Our Isles and Oceans project.