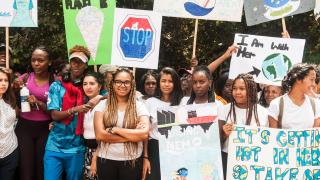 Over the past days, climate activists from the UK and across the world have drawn attention to the barriers faced by citizens and civil society trying to make their voices heard at the UN Climate Change Conference in Glasgow (COP26) - arguably the most important climate meeting since the Paris Climate Agreement was reached six years ago.
Launched to coincide with COP26, "Enhancing civil society participation in international climate decision-making: perspectives from the Global South" is part of an ongoing series of expert reports on global governance reform by the Together First coalition, which is coordinated by UNA-UK. This report was produced in collaboration with Plataforma CIPÓ, an independent, women-led policy institute focusing on climate, governance, and peacebuilding in the Global South.
Authors Adriana Erthal Abdenur and Nayifa Nihad look at civil society's vital contributions to climate advocacy and action, and the huge untapped potential for deeper UN-civil society collaboration which must be addressed if the international community is to tackle the twin crises of climate breakdown and biodiversity loss. They draw on analysis of official documents and interviews with key stakeholders, especially climate activists from Global South organizations, to identify barriers to effective participation in UN climate processes and make proposals for improving the institutional setup.
Civil society plays a critical role in advancing UN objectives and programmes - yet their ability to participate in deliberative and decision-making forums is limited: often piecemeal, ad hoc or tokenistic, and confined to a privileged few. The UN's work to combat the climate emergency is no exception. 
Documented barriers include: financial, bureaucratic, informational, language, accessibility and IT barriers, as well as constraints in relation to visa issues and Covid-19 – all of which inhibit the ability of civil society to participate fully in climate discussions. The report also notes the gatekeeper and facilitation roles played by member states, which in some circumstances give countries the ability to veto the participation of organizations, reflecting the increasingly troubling global picture of closing civic space and reprisals against outspoken environmental activists.
Key recommendations include: 
Increased participation and access rights at major conferences, as well as channels for ongoing interaction between the parties to agreements and civil society 
Appointing a UN civil society champion to lead a process to open up the UN system to civil society, remove barriers to participation and advocate against the politicisation of CSO access 
Establishing a dedicated fund to help guarantee broad representation of civil society at COPs and other relevant climate negotiations spaces, and widely disseminated to reach CSOs in the field 
An explicit role for CSOs in monitoring implementation of commitments 
More accessible and simpler accreditation procedures, widely available translation beyond the official UN languages, and inclusive technologies to overcome technical and bureaucratic difficulties including at COPs
The report expands on a key theme in Together First's Stepping Stones report - the need for more inclusive global governance. COP26 will be a test for overcoming emerging challenges specific to the pandemic - and long-standing hurdles to inclusive, meaningful, reliable participation by civil society in international climate processes.
Read more:
The report will be launched at UNA-UK's event in Glasgow on 9 November - click here to attend virtually
Read a summary of the report in Portuguese
Photo: Young people gather in Karura forest, Nairobi, in solidarity with the global climate youth marches. March 15, 2019. © UNEP