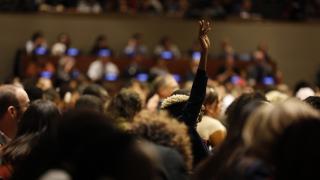 On 7 October, 61 states including the United Kingdom called on the UN to "open its doors to civil society" while stating that the legitimate need for COVID19-related public health measures "should not be used as a pretext to hinder the access of civil society organisations".
The call relates in part to the widely criticised restriction on NGO access to the UN headquarters in New York. While world leaders, diplomats and the press are now welcome back inside the UN headquarters, civil society organisations with accreditation are still not permitted to enter - a prohibition that has now lasted 18 months. 
UN watchers have speculated that the situation could be due to China's ideological antipathy to civil society and human rights defenders. According to Foreign Policy's UN Brief, the decision to exclude NGOs from the UN Headquarters was made by UN DESA, which, the article notes is headed up by a Chinese political appointee whom many observers view as "acting under the influence of the Chinese government".
We welcome the important show of support that this statement represents for the vital role played by civil society at the UN. Further, we welcome the commitment of those 61 states to support much deeper inclusion, including a "shift in mentality as well as in practice" and a call for all parts of the United Nations system to include civil society in their work across all pillars of their activity. This echoes language used by the Secretary-General in his recent Our Common Agenda report.
The statement was delivered in the General Assembly's Third Committee and drafted by Costa Rica and Denmark - the two countries leading the charge for deeper civil society inclusion in the UN's work through the #UNmuteCivilSociety platform. UNA-UK, along with our global Together First network, is delighted to endorse and promote this important platform, which has already gained the support of 52 states and over 150 NGOs. 
The UNmute platform includes the recommendation that a UN Special Envoy for Civil Society be appointed to support inclusive, meaningful and consistent civil society participation across the UN - a longstanding demand of UNA-UK's and a key proposal from our Together First campaign. As we have seen in relation to gender, human rights and youth, it is important to have a dedicated system-wide focal point as well as mainstreamed capacity across the system.
Click here for our report on the need for a high level UN champion for civil society