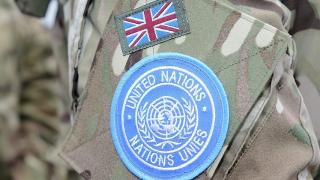 On Tuesday 16 March the government published its Integrated Review of security, defence, development and foreign policy. The Review was billed as the largest of its kind since the end of the Cold War and a timely opportunity for the United Kingdom to consider the totality of global opportunities and challenges it faces.
Read UNA-UK's full response here.
UNA-UK welcomes the UK's continued commitment to being an outward facing values-driven nation, the strong support for international cooperation and human rights outlined in the Review, as well as the announcement that climate change and biodiversity loss will be the UK's foremost international priority. However, we have concerns with regards to the document's consistency and implementation.
With respect to UNA-UK's core concern - the United Nations and our international system - the UK indicated a shift from "preserving the post-Cold War rules-based international system" to "shaping the open international order of the future." This is a laudable ambition but one that requires careful calibration and mitigation of risks. As we have argued, renewing our global system is vital and long overdue: the United Nations is overstretched and underfunded; ill-equipped to manage emerging challenges, in the digital sphere for instance; and too often hamstrung politically on pressing security and human rights matters. 
The UK can - and should - be an important actor in galvanizing the transformation we need, and UNA-UK welcomes the Review's commitment in this regard. However, efforts to overhaul our global system must be approached with caution. At a time of resurgent geopolitical competition and nationalist sentiment, opening up discussions on long-standing mechanisms could see efforts to undermine them.
UNA-UK has long called for more consistency in the UK's foreign policy approach - as a life-saving end in itself in situations such as the Yemen crisis, and as a means to strengthening the UK's international standing. In this regard we welcome the Review's emphasis on cross-Government working and greater coherence between domestic and international commitments. This long-awaited strategy, published nearly five years after the assumptions that underpinned the previous strategy were swept aside by the UK's decision to leave the EU, should bring some much needed focus to UK foreign policy.
While there is much to welcome, there remains a number of areas of unreconciled tension, including between human rights and enhanced trade, and between support for global rules and standards and the desire to be a "disruptor". There are also areas of grave concern, most notably on nuclear weapons. 
UNA-UK is appalled by the Integrated Review's approach to nuclear weapons, which threatens to substantively undermine the strategy as a whole. By abandoning the commitment to reduce warhead stockpiles to 180 and instead introducing a new dramatically higher 260 warhead cap, the UK is, according to the UN Secretary-General, acting "contrary to its obligations under Article VI of the NPT" in a move which could have a "damaging impact on global stability and efforts to pursue a world free of nuclear weapons".
In our submissions to this process UNA-UK made the case for the UK to utilise our international system as the best form of security and influence available in our multipolar and increasingly interconnected world. We offered policy suggestions in various areas - read our extended analysis of the Review's response to UNA-UK's policy agenda.
Photo: Photo: British Army Soldier Wearing United Nations Badge c. Crown Copyright/Defence Images Flickr