You are here: Bibhash Chakraborty on putting communities at the helm of security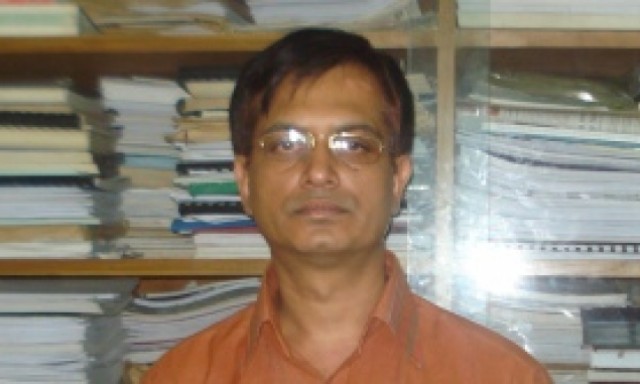 In Bangladesh, Saferworld champions a 'community security approach' built on improved relations between the community, civil society and local authorities. This concept was challenged from the outset as it is new to the development sector in Bangladesh where few of the development actors know how to work with local authorities and security providers. To popularise the concept, Saferworld and its local partner BRAC conducted a pilot project in in Hajirgol village, helping the rural community to identify their own security needs and engaging those who are best placed to respond to them. The pilot led to the development of an innovative approach to community security in 2012 that has since been adopted across 16 sites in south-western Bangladesh.
To identify security issues at a grassroots level, an inclusive approach was adopted, whereby a wide range of stakeholders were consulted, including marginalised women, the private sector, teachers, minority ethnic groups, local authorities and youth representatives. This process was deliberately designed to build ownership of the new approach at the local level, enabling individuals to share knowledge on how to build a safer community, incorporating both security and development concerns. To finalise the key issues, validation workshops were held, where representatives were able to ensure that the primary interests of their particular group were given due consideration in the new strategy.
The validation workshop culminated in the creation of a Community Action Committee and an Advisory Committee. Comprised of representatives from different social groups, the Community Action Committee functions as a point of contact between the community and the local authorities. This helps to build trust, and empowers the community to voice their own security concerns via their representative in the Committee.
Prior to the creation of these local committees, civil society had no inclusive platform for engaging all local stakeholders in security issues. The benefits of this holistic approach have been clear, with increased communications serving to prevent outbreaks of politically-motivated violence in many areas. For example, during the 2013 protests in Taltola village in the Satkhira district, the local Community Action Committee mobilised the local community and involved local authorities in an effort to stem the violence and arson attacks.
The Committees have also taken action to prevent child marriage, sexual harassment, gambling, domestic violence and drug abuse, and to ensure the provision of clean drinking water through sustained dialogue with police and members of Government. Their ongoing work has created hope within the community that the local environment will become a more peaceful place to live.
Despite this progress at a grassroots level, the last two to three years in Bangladesh have seen wider political and social challenges that have caused deterioration in the maintenance of law and order, resulting in escalating conflict and destruction of both public and private property. In this context, Bangladeshi authorities have felt helpless in the absence of greater cooperation from local communities; they have even suffered from fatal attacks by mobs in some cases. It is clear that without input from civil society and local community representatives, security and justice providers fail to play their role effectively, and vice versa.
Communication between government officials, civil society and the wider community is an essential facet of a democratic society, and integral to national stability. Failure to provide avenues for this communication can only lead to permanent conflict and the creation of a fragile state – a situation which is not exclusive to Bangladesh.
The successes of the community security approach have been shared with wider stakeholders, such as the UN Development Programme and the Dutch Embassy, and have attracted many actors at a national and local level. The rising popularity of this new model marks a growing recognition of the importance of engaging communities in their own security strategies. The fostering of relationships between civil societies and security providers under a broader development programme has the power to bring about long-term behavioural changes that keep conflict at bay.
Bibhash Chakraborty is Bangladesh Programme Manager at Saferworld