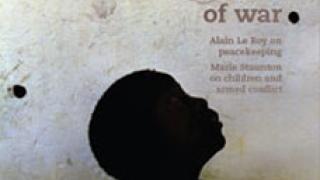 2010-11 was, as ever, an incredibly busy year for the UN Youth & Students Association (UNYSA).
In November 2010, we successfully launched our Millennium Development Goals campaign with speakers from the UN World Food Programme, UN Regional Information Centre and UN Environment Programme, and over 350 students and young people. In March 2011, we held our inaugural 'Model UNA-UK' event to contribute proposals to UNA-UK's policy conference, and in June 2011, we focussed on girls' development at our annual conference.
We have also worked with UNA-UK to enhance young people's participation in global decision-making, by making recommendations to the UN Security Council's first-ever interactive youth debate and by sending a youth delegate to the UN High Level Meeting on Youth in July 2011.
This past academic year has also seen UNYSA rebranded as UNA Youth - a name that makes us more recognisable to current and potential members, and links us more clearly to UNA-UK and to the worldwide network of UN Associations. We have also reduced the number of positions on our national youth council to three to ensure that it works more eff ectively for our members, and have created a written constitution that was adopted at our annual conference in June.
With a new name and council in place, and renewed aspiration to equip future leaders with the skills, resources and networks to fulfi l their endeavours, UNA Youth will focus on careers as its core campaign for 2011/12.
We are thrilled to be launching our brand new freshers' fair competition, "Where will the UN take you?", this September. The competition will off er UNA Youth members at university the chance to gain firsthand experience of the UN, to develop their skills, and to access careers advice from a range of experts. Visit www.una.org.uk/freshers to find out more.
We will also be looking at wider issues to do with youth empowerment and unemployment. Last month, UNA-UK sent a UNA Youth member to New York to lobby for the inclusion of young people in national decision-making and development plans. Our third exciting project for the year is a national Model UN team that will support the thousands of students in the UK who take part in MUNs each year.
We hope that these initiatives, alongside greater participation by our UNA Youth members, will help to ensure that our voices are heard in the UK and beyond.
CONTACT UNA YOUTH