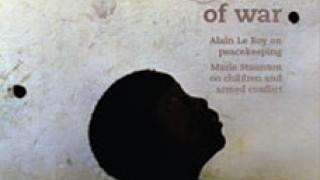 Climate change is a key development challenge. Many developing countries, and particularly children in these countries, are already suffering the most from climatic changes despite being the least responsible for the emissions that cause them.
At the Copenhagen climate change conference in 2009, developed countries committed to raising $100 billion a year by 2020 of 'new and additional' resources for developing countries for climate change – which is to be split equally between adaptation and mitigation needs. This is essential to ensure that vulnerable countries have the resources needed to cope with the current and future impacts climate change will present.
UNICEF UK's recent policy briefing 'The $100 billion question' looked at how long term commitments to climate finance are vitally important for children's rights in countries vulnerable to the impacts of climate change. Scaled up, long-term, climate finance is essential for ensuring a climate-safe future for current and future generations.
The $100 billion question looks specifically at what the UK Government should be doing in relation to the collective global goal of raising $100 billion a year of new and additional climate finance, arguing that the UK should speed up its decision-making for its contribution to these funds. Moreover, in a time of constrained public spending and domestic budget cuts, the UK can finance its contribution of 'new and additional' money by adopting new and innovative financing mechanisms – such as a tax on the financial sector (a Robin Hood Tax) and a tax on the dirty fuel used in shipping and aviation (bunker taxes). An ambitious climate finance contribution from innovative sources by the UK will lead the way in helping build a climate-resilient future for the world's children.
You can take action too and tell the Government how important climate finance is for the world's children by signing up to our new campaign Get Children Climate Ready. We are asking Chris Huhne and George Osborne to decide the UK's contribution to climate finance in 2011 and source this through bunker taxes and a Robin Hood Tax.
Take action now:
Climate change is happening now. We have a responsibility to ensure that children are able to adapt to and survive life-shattering events such as droughts, floods and other disasters. Action by the UK Government in 2011 on climate finance will go some way in doing just that, helping to secure a climate-safe world fit for children.
The UN Children's Fund in the UK: www.unicef.org.uk