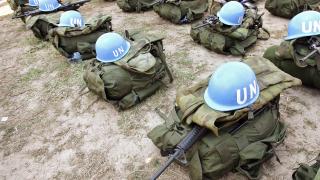 The total budget for the UN's 15 peacekeeping missions and its special political mission in Afghanistan is $7.6 bn.
The 15 peacekeeping missions are in: Kosovo; Cyprus; Haiti; Timor-Leste; Democratic Republic of the Congo; Liberia; Ivory Coast; Western Sahara; Lebanon; Syria; the Middle East; India/Pakistan border; South Sudan; Abyei (disputed region between Sudan and South Sudan) and Darfur in Sudan (a joint mission with the African Union).
The war in Afghanistan costs an estimated $116 billion per year.
Annual global military spending is thought to be some $1.4 trillion.
In addition to nearly 100,000 UN peacekeepers, there are some 20,000 civilians attached to peacekeeping missions.
Increasingly, UN peacekeepers are called upon not only to maintain peace and security and provide protection for civilians, but also to:
Facilitate political processes

Assist with the disarmament, demobilisation and reintegration of former combatants, including child soldiers

Support the organisation of elections

Protect and promote human rights

Help to restore the rule of law
The past few years have seen a high number of UN peacekeeping casualties, some from natural causes - such as the Haiti earthquake in 2010, and others due to violence. The Abyei mission, created in June 2011, has already lost four troops.
The above figures are based on 2011 statistics.