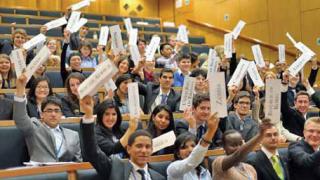 From 11 to 13 February, students from across the world participated in the 12th London International Model United Nations (LIMUN) conference. With just under 1,000 delegates, this year's event was the most popular to date and the biggest such conference in Europe.
LIMUN offers students the chance to learn about global issues and diplomacy in an interactive and enjoyable way, by playing the role of country delegations and UN officials from a host of bodies. Its range of forums allows both novice and seasoned MUN-ers to get the most out of the event: newcomers are eased into proceedings at General Assembly debates, while crisis committees give eager experts a chance to take on the world's most intractable conflicts.
Over the course of the weekend, participants negotiated resolutions on issues such as the arms trade and maritime piracy, with the deliberations often spilling over from formal sessions into the time set aside for dinner and dancing - all in the spirit of multilateralism of course.
But, aside from all the fun, why are so many people so passionate about MUN events? The answer lies in their value as an educational experience, giving participants a global perspective on major issues as well as fostering their leadership, communication and teamwork skills. Instead of being talked at, students learn from their peers and through their own research in an environment where the outcomes cannot be predicted.
LIMUN is Model UN par excellence. It is a truly multicultural experience, with delegates this year from 36 countries spanning six continents. To debate international affairs in this context helps the participants to confront their own prejudices. They can find themselves playing the US, Iran or Israel, listening to the frustrations of EU member states keen to make headway on climate change, or hearing why G77 countries think rich countries should bear the brunt of emissions cuts. This helps develop the understanding needed to work effectively in a diverse society. Back home, the students can share their experiences, debunking myths and breaking down the barriers that are so counterproductive in this increasingly interdependent world.
MUN conferences also offer insights into the world of politics and diplomacy in a way that no classroom can. There is nothing quite like stepping into the shoes of world leaders, going through the same decision-making processes, and, like many of them, learning the rules as you go along. You see the context in which global issues are negotiated, and how these impact on national and regional politics. So deep is the immersion that many delegates stay in character for the whole conference, sporting national dress and socialising mainly with regional friends and trading partners.
Ultimately though, what makes MUN so fantastic is the natural way that it fosters cooperation and tolerance. By working together on resolutions and sharing their knowledge and experience, students learn how multilateralism can create peaceful solutions to the most complex challenges.
And who knows what will happen if some participants go on to become diplomats and policymakers. MUN could be their inspiration for maintaining an open-minded, cooperative approach to international affairs, leading them to pursue multilateral foreign policies in the real world.
Pallavi Kavdikar is a third-year Law LLB student at the London School of Economics. She was Under-Secretary-General for Communications at LIMUN 2011