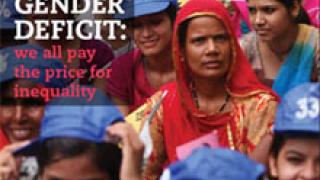 1.     Women perform 66% of the world's work and produce 50% of the food but earn only 10% of the income and own just 1% of the property.

2.     Despite progress, men still outnumber women in paid work, and women are often relegated to vulnerable forms of employment, with inadequate earnings, benefits and working conditions. The share of women in paid non-agricultural employment is still languishing at 20% in South Asia, North Africa and Western Asia. In the UK, more than 40 years after the Equal Pay Act, women working full time are still paid an average of 15.5% less per hour than men - the equivalent of men being paid all year round while women work for free after 2 November.

3.     Though the proportion of female representatives in national parliaments worldwide continues to rise slowly, it still stands at just 19%. Women also account for just 16% of ministerial posts. At 20% and 17% respectively, the figures for the UK are not much better than the global averages. Only 18 countries currently have elected female heads of state or leaders.

4.     Just a quarter of the world's senior officials or managers are women. Only 13 of the 500 largest corporations in the world have a female CEO and nearly half of all FTSE 250 companies do not have a single woman on their board.

5.     Of the 759m adults across the world who cannot read or write, the vast majority - close to 70% - are women. This proportion has barely changed during the past 20 years. Girls also form the majority of the estimated 72m children who are not in school.

6.     Every 90 seconds, a woman dies in pregnancy or due to childbirth-related complications. That is more than 350,000 deaths each year, 99% of which occur in developing countries: nearly all are preventable.

7.     For women and girls aged between 16 and 44, violence is a major cause of death and disability. One woman in three is thought to have been beaten, coerced into sex, or otherwise abused in her lifetime, usually by someone known to her. In some areas of the Democratic Republic of the Congo, 40 women and girls are raped every day (see Margot Wallström's article). An estimated 200,000 rapes have taken place in the country over the past decade. The perpetrators of the Rwandan genocide committed between 250,000 and 500,000 rapes, while during the conflict in Sierra Leone there were 50,000 such attacks, with a similar number committed over the course of the war in Bosnia. Yet sexual violence remains the least-condemned war crime, in terms of cases brought before court and the low conviction rate.

8     Women's participation in peace negotiations remains patchy - under 8% of negotiators, mediators and witnesses are female. Fewer than 3% of signatories to peace agreements are women and no women have been appointed chief or lead mediators in UN-sponsored peace talks.

9.     An estimated 130m girls and women alive today have undergone female genital mutilation, often in unsafe and unsanitary conditions, and the UN Population Fund believes that each year some 5,000 women are victims of 'honour killings'.

10.     While the UN Convention on the Elimination of All Forms of Discrimination against Women has achieved almost universal ratification, states have lodged more 'opt out' clauses against it than to any other human rights treaty. (See New World online for Charlotte Gage's article on implementing CEDAW in the UK)

Sources: UN Millennium Development Goals 2010 report (www.un.org/millenniumgoals), UN Women (www.unwomen.org) and the Fawcett Society (www.fawcettsociety.org.uk)