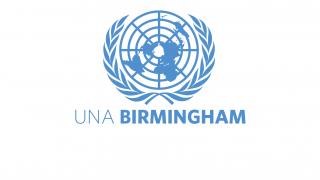 Gillian Briggs of UNA Birmingham shares her memories of Donald Cooper 
Donald Cooper was an incredible man, both at branch and regional level. He acted as the Treasurer of both for many years. He was a qualified accountant and gave his services as Treasurer delightedly well into his 80s. He also served on the Board of Directors for some years.
Donald was a man who always spoke his mind, mostly in connection with the UN. He was most knowledgeable about the UN and the Charter as well as many other aspects of international affairs. The one big issue for him was 'Population', many years before UNA took on the subject.
At regional meetings, as well as branch ones, he would make sure that whatever was on his mind about the UNA and UN generally would be shared with us around the table. 
He was a very generous man, especially to the Branch's fundraising events along with other agencies of the UN, such as UNICEF and UNHCR. He possessed a great wit and unusual sense of humour which made people warm to him. 
Both the Branch and the Region have lost in Donald a unique character, the likes of whom will not be seen again in both the UNA and the UN. The sad thing is that the UN Secretariat will never know! He will be greatly missed.