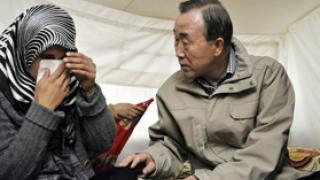 Alice Morgan is Communications & Campaigns Volunteer Intern at UNA-UK and holds a degree in Anthropology and African Studies from the University of Birmingham
Europe is currently facing an influx of refugees and migrants on an unprecedented scale, according to the United Nations. Entire families have fled their homes; escaping war, political persecution, human rights violations, terrorism and poverty. Upon reaching the Europe, arrivals are generally treated by refugee support centres and NGOs for a whole host of physical injuries. However, there is often little treatment provided for the less visible scars from their journeys.
With the sheer number of refugees and migrants arriving in Europe each week, it is worrying that mental health is being overlooked. Speaking to UNA-UK, Pieter Ventevogel, Senior Mental Health Officer at the UN Refugee Agency (UNHCR), noted that this is in part because "most refugees reside in countries where there are very few mental health services", as in low income countries, expenditure on mental health support can be as little as US$0.25 per person per year. While access to mental health support may be limited due to overstretched resources, providing this support needs to be established as a basic need.
The level of psychological care provided by host countries is currently at odds with the scale of the crisis. Recent research by the Federal Chamber of Psychotherapists (BPtK) on mental illness amongst resettled refugees in Germany reveals that half are experiencing psychological distress. Of these, 58 per cent stated they had witnessed death, and 43 per cent claimed to have been tortured. In undergoing such harrowing experiences, it is unsurprising that the World Health Organization estimates that during emergencies, the global prevalence of mild to moderate mental disorders, such as post-traumatic stress (PTSD), can almost double.
Host states must also not discount milder psychological reactions to adversity such as grief and daily stresses, which are more common. If left untreated, grief can develop into chronic mental health conditions and become harmful to an individual's wellbeing. According to Mr Ventevogel:
"In the media there is disproportional attention for psychological trauma and people seem to think that 'trauma' is the only problem of refugees. This is wrong and harmful. In the daily work of UNHCR and partners we see a broad spectrum of mental disorders and psychosocial problems and our response needs to cater for the whole spectrum".
Some progress has been made in filling the lacuna of mental health support. UNHCR and a number of charities have responded to the crisis by providing regional mental health support programmes for displaced Syrians in surrounding countries. And on a broader scale, the European Federation for Psychologists Association has called for increased collaboration and knowledge-sharing between European psychologists to deal with this crisis. 
But much work remains to be done. Health agencies need to routinely address psychosocial and mental health needs, and it's imperative that everyone working on the front line, from volunteers to police, is trained in recognising and assisting those in great distress. "Also important is a human and dignified response by humanitarian workers and government staff", added Mr Ventevogel.
The biggest obstacles for refugees in accessing mental health care are often language and cultural barriers. "Many refugees come from countries where mental health treatment is heavily stigmatised and people may not be inclined to seek help" says Ventevogel, stressing the importance of "assisting existing mental health services to adapt their services to the needs of refugees". There is, therefore, a definite need for training of culturally competent providers whose role is vital in facilitating refugees' integration into a new society. These cultural mediators play a crucial role as the first point of contact for many arriving refugees: translating, explaining cultural differences and acting as a bridge between them and health professionals and/or authorities.
In addition, the support refugees receive must be comprehensive. It must encompass health services, existing community support mechanisms and social and educational services. A system comprised of these services will help the integration process which, in turn, will minimise the risk of longer-term mental disorders. Research has shown that teaching the native language of the host country is particularly beneficial for refugee children, with language acquisition being associated with lower rates of PTSD.
It is understandable why immediate solutions such as providing shelter and food for refugees are being prioritised. But the consequence of failing to provide adequate mental health care is likely to have detrimental effects for both refugees and their successful integration into host communities. Europe can and should invest in basic mental health support for refugees and asylum seekers.
Photo: Secretary-General Ban Ki-moon (right) speaks with a distressed woman during his tour of the Syrian refugee camp at Islahiye in southern Turkey, near the border with Syria. Copyright UN Photo/Mark Garten