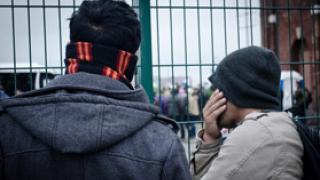 Clare Moseley is Founder of Care4Calais
My neighbours are unusual. They live in tents; the lucky ones under wood-framed tarpaulin. Some don't wear shoes, even though the ground is thick with cold mud and human waste. Often they show signs of having been traumatised. 
I came here – to the "Jungle" camp in Calais – six months ago, with no experience, no plan and no idea if I could effect change. I set up Care4Calais to deliver food, clothing and basic day to day supplies because, although the camp is right on our doorstep, there was no other UK charity working here. 
Europe is meant to be beyond this sort of thing, after all.
I still live here. Not because I want to. I want to go home. I came here for the same reason many other volunteers do: they see people who need help and feel compelled to act. It's a basic humanitarian response.
As I write, demolition teams and riot police are forcing people to move on. They are destroying people's homes, their lives, their families, which were already hanging in the balance. Is this a humanitarian response? Refugees were given just one hour to leave. These are people who have escaped war or persecution, often with family and friends who have died on the journey here.
This is not a large camp. There are about 6,000 here – probably less now as many have been forced to move on. In comparison, about 5,000 people arrive every single day on the Greek Island of Lesbos.
What happens to them after the authorities destroy their shelters? This is not an official refugee camp so the UN has not been brought in to begin asylum assessments and provide practical support to all, including the hundreds of unaccompanied children with nowhere to go. Apart from Médecins Sans Frontières, there are no established charities providing immediate help on the ground.
So the French authorities bulldoze and raze parts of the camp to get rid of the problem. They provided 1,500 spaces in converted shipping containers, but nowhere near enough for all, and they often want to split family members up to 'house' them. The containers are surrounded by a fence, and its residents are watched on CCTV; they need to register every time they return from the outside world and they're not allowed visitors. Unsurprisingly, many refugees choose to take their chances in a tent. 
The French police regularly shoot teargas into the camp. I hear accounts from many refugees who say the police beat them up. Far right groups have carried out vicious attacks on refugees who live here. 
And still there is no real political action from the UK. As if to provide any official support would legitimise the camp, or exacerbate the problem. Or would mean an instant burden of financial responsibility neither the UK nor the French Governments want to shoulder.
I often get letters from school children who have been learning about the refugee crisis. As soon as UK children are told about people who have lost their homes, they write to me inviting refugees to live with them. They tell me about the empty house next door and suggest housing refugees there. They draw pictures of their homes, showing me exactly where someone could live. To them it's simple: someone is in trouble and they want to help. 
I don't know if volunteering is a sustainable way of dealing with this issue. I don't know if simple compassion is enough. But I see no alternative. What's better than compassion? Certainly not human rights laws, which have so far failed to protect people living here.
Although I want to go home, I won't. We have effected change here. We continue to put pressure on Governments to look after these frustrated and helpless people. From September 2015 to the beginning of February 2016, we've managed to get 5,000 people out of tents and into wooden shelters. Volunteers are serving 2,500 hot meals every single day in the Jungle. In the last three months, Care4Calais has distributed 12,000 blankets, 16,000 food parcels and 18,000 items of clothing or shoes. 
Without all that, this would have been a very different winter for my unusual, often hungry and increasingly desperate neighbours.
Photo credit: Squat le Monde