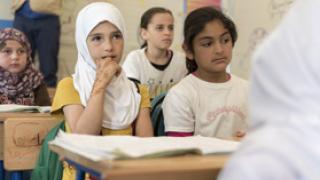 Robert Stephen Burns is a former Volunteer Outreach Intern at UNA-UK and is about to begin a master's degree in International Relations at Kings College London
According to UNICEF, 13.5 million people are in need of life-saving assistance inside Syria, including six million children. Looking at the immediate problems of mass displacement, starvation and dire living conditions, one could imagine why the education of Syrian children is unlikely to be a top priority – both within Syria and in host countries, where resources are already overstretched.
But with over two million out-of-school Syrian children inside Syria and 0.7 million Syrian children in Turkey, Lebanon, Jordan, Iraq and Egypt in need of education assistance, the scale of the problem, if left untreated, could result in long-term implications for Syrian children, for the economic and social health of their host countries, and for the future of Syria
Human Rights Watch has stated that prior to the conflict, the primary school enrolment rate was 99 per cent and lower secondary school enrolment was 82 per cent, with high gender parity. Collectively, these percentages have now plummeted to an average of 50 per cent. This may be partially due to the fact that, according to UNICEF, one in every four Syrian schools has now been destroyed, damaged or occupied by extremist insurgents. Rates of child marriage among refugee girls are also estimated to have doubled in Syria from 12 to 25 per cent since the start of the crisis in 2011, and child labour among out-of-school boys and girls is said to be rapidly worsening.
The implications of uneducated Syrian children are worrying. Education is a basic need that can provide a wide range of benefits to Syrian children and to the future of Syria. The British Council conveys the idea that for many refugee children; education is synonymous with 'hope'. Education represents a life after the refugee camps and a future after the war. Education can offer an element of stability and normality to children, giving them something to focus on.
Aside from these short-term benefits of education, the future of Syria desperately depends on a new generation of educated children who are equipped to rebuild their country. UNESCO finds that the longer these young people remain out of school, the less likely they are to return to education and the more likely they are to turn to crime or radicalism. This means that education for refugee Syrian children would, above all, help to combat at source some of the factors contributing to mass migration and extremism. UNESCO Director-General Irina Bokova stressed the wider implications of education in Syria at the Summit on Countering ISIL and Violent Extremism:
"We must provide young women and men in the region, across the world, with access to quality education, with skills to think critically, with media literacy to reject hatred, with competences for dialogue and tolerance, with aspirations to become global citizens".
Until recently, relatively little action had been taken to address the inadequacy of refugee education. However, in 2016, the need to educate Syrian refugee children gained the recognition it deserves. During the Syria Donors Conference in London on 4 February 2016, a number of practical initiatives, pledges and funds were confirmed by world leaders. Commitments included: providing access to basic education for all Syrian refugee children by the end of the 2016-17 school year; giving displaced Syrian children inside and outside Syria safer education and providing support for the most vulnerable, especially girls and women; and promoting educational, protection and engagement opportunities for children and young people in line with the No Lost Generation initiative. These initiatives are backed by loans from international financial institutions, government donations, private donors and access to European markets.
There are valuable lessons to be learnt from neighbouring countries. For example, thousands of extra school places are now available in Lebanon with the introduction of a 'double-shift school system' - this is where Lebanese children are educated at their local school in the morning and Syrian refugee children are taught in the evening.
Despite these new initiatives and commitments, there is much work to be done. The UN Special Envoy for Global Education, Gordon Brown, puts forward that there are still hundreds of unfunded existing schools in the surrounding region that are ready to double-shift, and thousands of displaced teachers ready to educate. Only with the continued support and work of the UN, civil society organisations and external funders can we give all Syrian refugee children the proper education that they need – not only for their benefit today, but for the hope of the region tomorrow.
Photo: Children listen to their teacher at the Zaatari Refugee Camp, located near Mafraq, Jordan, which has grown to house nearly 80,000 Syrian refugees since it opened in 2012. Copyright UN Photo/Mark Garten