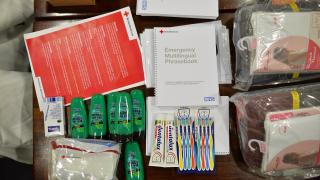 Natalie Samarasinghe is Executive Director of the United Nations Association - UK
This issue of New World seeks to get under the skin of the biggest displacement crisis since records began, with its staggering numbers, populist myths and politicised terminology. We highlight situations often ignored by the media and showcase two very different survivor stories from the Korean peninsula: that of Jihyun Park, a refugee who went through enormous hardship to reach the UK, and that of Ban Ki-moon, the UN Secretary-General.
As Baroness Neuberger describes, the current crisis has engendered much goodwill. But compassion has been fickle. The outrage that accompanied Alan Kurdi's death has subsided; the reaction to reports that some 500 people had died crossing the Mediterranean on 25 April was muted. On the same day, British MPs rejected a proposal to take in 3,000 unaccompanied refugee children stranded in Europe. A Home Office Minister warned against creating a "pull factor".
We have been here before. In the 1930s, politicians here (and elsewhere) were wary of making it too easy for Jews to gain asylum, lest it encourage others. Newspapers railed against "swarms" of refugees and reported that criminals, revolutionaries and Nazi spies were coming in with them.
Yet a sense of solidarity prevailed – perhaps because of the experience of war or because refugees back then looked a little more like "us" – leading eventually to the establishment of the UN Refugee Agency and Refugee Convention. Solidarity became enshrined in international law and became the basis for our rules-based global order.
But today, we in the West have grown accustomed to using humanitarian assistance as a global buffer, contracting out responsibility for refugees and pursuing ever-tighter definitions of who deserves our support. This approach is short-sighted and dangerous.
First and foremost, it dehumanises people, raising serious questions about our commitment to the values we profess to uphold. Second, it wastes human potential by prioritising containment in camps over resettlement and integration.
Third, it ignores the root causes of the crisis as well as the risks posed by a prolonged, unmanaged flow of people. Some 10,000 children are already thought to have gone missing after arriving in Europe, believed to have fallen victim to traffickers.
Fourth, it sends a worrying signal about our ability and willingness to deal with crises that we routinely expect developing countries to tackle. We don't seem to care whether the 1.2 million people taken in by Lebanon are "bogus" asylum seekers. We expect them to be looked after – well enough to discourage them from leaving, and attempting to reach European shores. Let us hope this generosity would be extended to us should we ever be in need of shelter.
And finally, it undermines our international system, which has brought us prosperity and security, and which will not endure without our concerted efforts. The rise of populist sentiment against refugees – and immigrants more generally – should be a warning sign.
Taking in people will not be easy in the short-term, but we must not lose sight of the bigger prize: living up to our values, and helping to build a safer, more prosperous future for us all. The world is too interconnected to do anything else. If we don't, our response to the refugee situation may end up harming us more than the crisis itself.
Photo: Emergency supplies and welcome packs prepared for refugees arriving in Belfast. Copyright Charles McQuillan/Getty Images