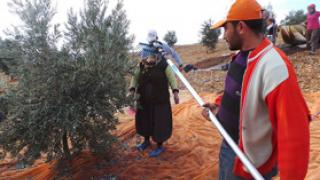 Sara Pantuliano is Director of Humanitarian Programmes at the Overseas Development Institute
The 'refugee crisis' has frightened Europe, divided its people and given opportunities to populist politicians to advance their own agendas. Populist responses have become the official policies of some European governments as mainstream politicians have sought to keep or recapture votes.
Indeed, it would be naïve to pretend that large-scale forced migration does not come with a range of political, social, economic and security risks and challenges – both to refugees and to the countries where they seek asylum. Both resettled refugees and host communities may struggle to manage mental and physical health problems among refugees, often associated to the trauma they have experienced. There may be significant differences in skills, education and capabilities between individual refugees; a mismatch between refugees' skills and education (including language capacities) and the labour needs of the host country; and resistance and discrimination from host communities.
However, the root causes (and impact) of many risks faced by host countries, particularly in the medium to long term, stem from the inadequate integration of refugees. The key policy issue confronting Europe should not be whether to accept refugees, but rather how to turn the associated challenges into opportunities by facilitating integration.
Integration can only be achieved if a host state actively invests in developing and implementing social policies that help reduce cultural and linguistic barriers, facilitate social connections, foster safety and support the enjoyment of full citizenship rights for refugees, including access to jobs and basic services. Refugees in European Union (EU) countries have identified key obstacles to their integration, including delays in their initial reception, racism (on both an individual and institutional level), class structures, cultural differences, unemployment, age, lack of information and differing welfare systems and approaches.
Yet examples of good practice do exist. One study on state-assisted integration in Scandinavian states found that refugees and asylum-seekers given access to employment, housing, education and language training on arrival achieved greater integration, leading to positive outcomes. For example, Sweden has cut the medical accreditation process down to four years and is trying to lower it to below two. Refugee doctors are not sent back to university but are offered practical experience with medical teams in hospitals, where their competences are assessed and they can become acquainted with local medical procedures.
The German Government has made significant financial investments and introduced policy reforms, including reducing the period refugees and asylum-seekers must wait before becoming employed and abolishing the labour market test under certain circumstances; increasing access to vocational training, internships and educational grants; and providing tailored support to ensure that children and adolescents receive sufficient educational and vocational training to facilitate their integration and ultimate entry into work.
In some instances, integration can have relatively quick and highly successful outcomes for both the refugees and their host country. A prominent example of this is the case of the refugee Ahmed Hussen, who made history in becoming Canada's first Somali-born Member of Parliament in October 2015.
Refugees are not all the same; they represent a diverse range of skills, abilities, personalities, demographics and vulnerabilities. Equally, the countries in which they seek asylum have very different cultural, social, economic and political dynamics. The extent to which refugees can be successfully integrated into host countries depends, in large part, on the convergence of these factors.
However, positive outcomes for refugees and host societies can be generated through supportive institutional frameworks and investment in the resources required to support the integration of refugees, and to address and minimise the initial barriers they face. Investment must start early, be long-lasting and focus on key issues such as legal status (including by developing fast and efficient procedures to determine refugee status), swift access to employment and education, language support and adequate housing.
Refugees won't stop fleeing from the misery of war and systematic violence and won't be dissuaded by short-sighted deterrence policies. A lack of integration will inevitably bring social tensions, marginalisation and societal division. Integration must not be seen as a problem but as an investment for the future. 
Photo: An olive oil plant in Kilis, Turkey will bring new life into the olive industry while providing much needed livelihood opportunities to a community that has doubled in population due to the influx of refugees from neighbouring Syria. Credit: UN Development Programme