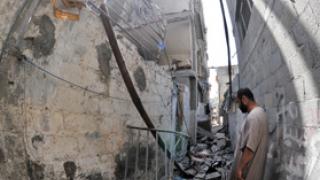 In an exclusive interview with UNA-UK, Chris Gunness, Spokesperson and Director of Advocacy and Strategic Communications for the United Nations Relief and Works Agency for Palestine Refugees in the Near East (UNRWA), sheds light on the major challenges faced by Palestinians in Gaza and the West Bank.
What are the biggest challenges facing Palestinians in Gaza and the West Bank?
Let's focus on the human dimensions here and concentrate on how the denial of dignity and rights inflicts suffering at the individual level. If you are a child living under occupation in the West Bank, you see Israeli settlements growing up on the hills around your home; you see separate roads for settlers, separate water supplies, a completely different justice system. Meanwhile, you find yourself hemmed in by physical restrictions, with the prospects for a dignified and prosperous future receding with each passing day. If you are a child in Gaza, your neighbourhood is likely to be lying in ruins; unexploded ordnance is probably littering your recreational spaces; you may well be deep in grief and horribly traumatised. If you are six years or over, you will have lived through three terrifying conflicts.
What can the international community do to help?
Beyond the blockade and occupation, there must be robust political action to address the conflict in Syria, which hosts nearly half a million Palestinian refugees. It is a simple historical fact that refugee crises can only be solved if the root causes of dispossession are addressed. In the meantime, UNRWA stands ready to help an embattled population with emergency aid and long-term human development assistance. We do this as part of one continuous intervention, under one roof, providing both a band-aid and long-term services such as education and health – which are very much part of the Sustainable Development Goals.
UNRWA is suffering from a deficit of $85 million – how do you make the case for support?
Last year we nearly had to postpone our school year for half a million children. We just didn't have enough money to pay our 20,000-plus teaching staff. So at a time when extremist groups were in full recruitment mode, we were nearly forced to leave half a million children on the streets and not in UN schools. Donors realise this situation is unsustainable. They also know it costs at least seven times more to provide services to refugees once they arrive in Europe than to deliver services through UNRWA in the Middle East, which is where the refugees prefer to be.
Some critics say UNRWA's work is perpetuating the Israel–Palestine conflict.
Accusing UNRWA of perpetuating the conflict is as nonsensical as accusing Oxfam of perpetuating world poverty. We are a humanitarian organisation mandated to deliver services. It is the failure of the political players who are charged with bringing peace, including by solving the refugee question, that perpetuates the conflict and the refugee crisis it has engendered.
You made the headlines in 2014 following an emotional interview with Al Jazeera. Do we need a more compassionate response to refugees?
Compassion and humanity are an intrinsic part of restoring human dignity, which is ultimately what we are doing for refugees, people who are truly the dispossessed of the earth. If my tears served as a reminder of that, then I make no apologies. Moreover, if my tears served to focus world attention on the tears being shed in Gaza and the huge injustices being perpetrated against civilians there, then I have no regrets.
What is your message to the international community?
2017 will be the 10th anniversary of the Gaza blockade, the 50th anniversary of the Israeli occupation, and the 100th anniversary of the Balfour Declaration. Let us use these milestones as spurs for positive change.
Photo: A Palestinian inspects the remains of a house targeted by an Israeli air strike near a beach refugee camp west of Gaza City, 12 July 2014. Copyright UN Photo/Shareef Sarhan