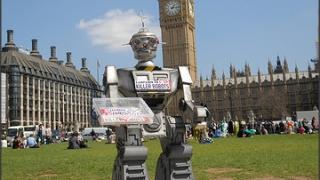 Over the last decade, the pace of technological advance has raised the prospect of lethal autonomous weapons systems, or 'killer robots' - weapons that can make the decision to kill without meaningful human control.
Since 2013 UNA-UK has campaigned against the dehumanisation of warfare alongside the global Campaign to Stop Killer Robots. Since 2014 the issue has been discussed at the United Nations in Geneva via the CCW - a body which aims to ban or restrict the use of inhumane weapons. 
While the UK insists it is not planning to develop killer robots, the UK's direction of travel, as revealed in its March 2021 Integrated Review, raises serious concerns. Awareness is growing across the international community as well as among UK politicians around the need for strict limits on autonomy in weapons systems. 
Parliamentary champions
We are pleased to announce the estabishment of a cross-party group of parliamentarians who are concerned about growing autonomy in weapons systems. This informal group is faciliated by the UK Campaign to Stop Killer Robots and includes parliamentarians from the four biggest UK political parties.
The group will receive commentary on relevant international meetings, briefings on the latest UK policy developments and invites to events - as well as acting as a platform for dialogue and information exchange. We are delighted that many of these parliamentarians have already publicly voiced their concern of the prospect of killer robots and are using formal means to raise the issue up the agenda in UK parliament.
Click here for a list of members of the group.
If you are a parliamentarian or a staff member for a parliamentarian you can join the group by emailing robotsuk@una.org.uk.
Photo: David Wreckham - the Campaign to Stop Killer Robots' friendly robot mascot is pictured at the Houses of Parliament in London, April 2013.