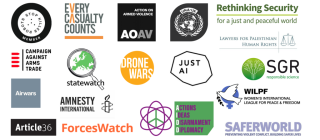 This month a resolution on Autonomous Weapons Systems will be tabled for the first time at the UN General Assembly's First Committee. 
UNA-UK has joined human rights organisations in the UK calling on Foreign Secretary James Cleverly to urgently and effectively safeguard against the serious risks posed by Autonomous Weapons Systems (AWS) by supporting the resolution.
Autonomous Weapons Systems pose legal, ethical, humanitarian and security risks. We urge the UK Government to use the upcoming vote as an opportunity to respond to the UN Secretary-General's urgent call to Member States to adopt a treaty to prohibit and regulate AWS by 2026. Supporting the resolution is vital for progress on addressing the problems with AWS.
The call for an international treaty is already supported by over 90 States, the International Committee for the Red Cross, experts in technology and artificial intelligence and civil society organisations around the world.
If the UK is serious in its commitment to be "at the forefront of global regulation on technology" it must take action through the General Assembly, where all states are represented.
Read more:
About the Campaign to Stop Killer Robots
This piece was originally published by the UK Campaign to Stop Killer Robots. 
UNA-UK continues to raise awareness of concerns over lethal autonomous weapons systems - an emerging type of weapon system which can identify and kill people without meaningful human control. UNA-UK conducts this work with our partners in the UK Campaign to Stop Killer Robots, the UK chapter of the global campaign, and hosts the coordinator for this coalition.
Photo: Signatories to the open letter.