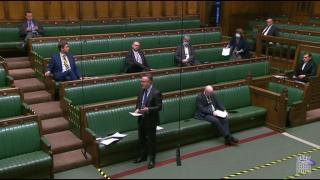 On 16 December 2020 the SNP's spokesperson for foreign affairs, Alyn Smith MP, introduced legislation at the House of Commons calling for the UK to support a ban on Lethal Autonomous Weapons Systems (LAWS).
He underlined the risks posed by LAWS and related technology, which are evolving rapidly and in a "deeply dangerous direction." He stressed:
The developments in Artificial Intelligence and facial recognition technologies, as well as other related technologies, could remove that human element from the control of these weapons altogether. They should be banned. They should be banned pre-emptively." 
Calling for UK leadership on maintaining human control over weapons system, Mr. Smith highlighted calls for a ban across the globe, as well as support from civil society.
I'm not the first person to call for this. Thirty nations, the UN Secretary General and the Pope have called for a ban on moral but also on technological grounds. The UK can genuinely take a lead on this. And in a bi-partisan spirit I would urge it to do so because this will be a genuinely globally significant development. 

 

To ban lethal autonomous weapons preemptively and work to build a global consensus on the practicalities of meaningful human control over weapon systems is of global significance. 

 

We believe that this bill is necessary, we believe it's pragmatic, we believe it's workable, we believe it's urgent – there is a lot of support for it across the House and the wider civil society – and in that bipartisan spirit, I commend it to the House."
This development builds on the SNP's 2019 manifesto commitment to work for a ban on LAWS and subsequent submission to the UK's integrated review. We were delighted that contributions by UNA-UK, along with other members of civil society, were recognised in Mr. Smith's speech and we look forward to working with all political parties to build cross-party engagement on this issue.
Watch Alyn Smith's Ten Minute Rule Bill at the House of Commons in its entirety:
Photo: Alyn Smith MP reads the Ten Minute Rule Motion at the House of Commons. Credit: UK Parliament 2021