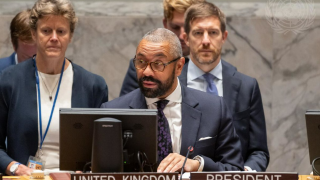 On 18 July the UK (President of the Security Council for July 2023) convened a debate on AI and opportunities and risks for international peace and security, with briefings from UN Secretary-General António Guterres, Jack Clark (co-founder of Anthropic) and Yi Zeng (Institute of Automation at the Chinese Academy of Sciences).
 
UNA-UK is hopeful that this meeting signals an openness by the UK to pursue new avenues to address the risks associated with the use of AI in weapon systems now that the issue has reached a dead end in the Geneva weapons control forum. Specifically we hope the UK will take this issue to the General Assembly this autumn, where support is building for a process to create a treaty regulating these weapons.  
During the debate states acknowledged the urgency of addressing AI, however some such as Russia pushed back on what they believe to be the "duplication" of UN efforts - a common tactic used to stifle progress on issues. Guterres has repeatedly made clear that we need a ban on killer robots on moral and technological grounds. In his briefing he reiterated this call and announced that the New Agenda for Peace calls for negotiations on a legally binding instrument to be concluded by 2026. 
Guterres encouraged Member States to debate the best course of action to establish the AI governance mechanisms, and highlighted the Summit of the Future (due to be hosted at the UN General Assembly on 22-23 September 2024) as an "ideal opportunity for decisions on interrelated issues" including maintaining human control over nuclear weapons.
Earlier this month the UK's Ambassador Barbara Woodward told UNA-UK's Ben Donaldson that "the two big areas of concern we'll be looking at are autonomous weapons and nuclear." UNA-UK will be following up to see what happened, as the UK's statement at the session, delivered by the Foreign Secretary James Cleverly, only briefly mentioned accountability for decisions made in battle without any explicit reference to autonomous weapons. The UK's summit on AI safety scheduled for this Autumn represents an important opportunity for the UK to build support for action on this issue - we hope that the summit's programming will reflect this.
Since the Security Council debate, Austria's disarmament director Alexander Kmentt has stressed the urgent need for meaningful human control over autonomous weapons systems, saying: "Humanity is about to cross a threshold of absolutely critical importance. This window [to regulate] is closing fast." We urge the UK to work with its Austrian counterparts as well as others who are building support for action on this issue in the General Assembly.
Read more:
See the full session transcript here.
Photo: James Cleverly, Secretary of State for Foreign, Commonwealth and Development Affairs of the United Kingdom and President of the Security Council for the month of July, chairs the first ever Security Council meeting on artificial intelligence (AI). Credit: UN Photo/Eskinder Debebe.