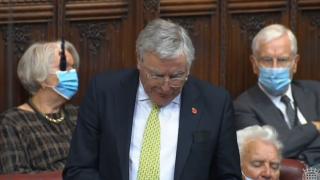 Over the last decade, the pace of technological advance has raised the prospect of lethal autonomous weapons systems, or 'killer robots' - weapons that can make the decision to kill without meaningful human control. 
While the UK insists it is not planning to develop killer robots, the UK's direction of travel, as revealed in its March 2021 Integrated Review, raises a number of questions.
Responding to the increasing awareness around this issue, in summer 2021 we estabished a cross-party group of parliamentarians and parliamentary staff who are concerned about growing autonomy in weapons systems. This informal group is facilitated by the UK Campaign to Stop Killer Robots and includes parliamentarians from the four biggest UK political parties as well as religious leaders. 
Membership of this group does not presume support for any specific policy recommendations; it is simply a group of individuals with concerns about the growing levels of autonomy in weapons systems. The group receives commentary on international developments, briefings on UK policy, and invites to events - as well as acting as a platform for dialogue and information exchange.
With participants' agreement, the names of parliamentarians who are members are published below.  
Parliamentarian names and affiliations 
Alyn Smith MP (SNP)
Baroness Hodgson of Abinger (Conservative)
Darren Jones MP (Labour)
Lord Bishop of Oxford (Diocese of Oxford)
Lord Browne of Ladyton (Labour)
Lord Clement-Jones (Liberal Democrats)
Lord Desai (Non-affiliated)
Kenny MacAskill MP (SNP)
Kirsten Oswald MP (SNP)
Mick Whitley MP (Labour) 
The initiative demonstrates growing momentum for action on this issue within parliament and over time we hope it will contribute a healthy increase in scrutiny of the UK's approach to autonomous weapons systems.
If you are a parliamentarian or a staff member for a parliamentarian you can join the group by emailing robotsuk@una.org.uk.
Image: Lord Clement-Jones delivering an Oral Question in the House of Lords on lethal autonomous weapons on 1 November 2021.