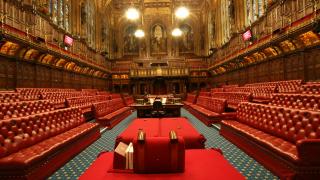 On 7 December 2022, following increasing parliamentary interest and the work of a group of committed parliamentarians, the House of Lords Liaison Committee recommended the creation of a Special Committee on the Use of Artificial Intelligence in Weapon Systems to be established in 2023. 
Each parliamentary year a total of four special inquiry select committees are established in the House of Lords, to examine and report on a range of issues and specialist subjects. They provide an important instrument to hold government accountable on key policy issues. The recommendation for a Special Committee on the Use of Artificial Intelligence in Weapon Systems - from a list of twenty submitted proposals - is recognition of the pressing need for greater scrutiny and clarity over the UK's policy towards autonomous technology in a military context, something UNA-UK has long been calling for through our work as a Steering Committee member of the UK Campaign to Stop Killer Robots. 
The 2017/19 Select Committee on Artificial Intelligence (AI), which examined the broader implications of advances in AI, noted that the military use of this technology merited a committee of its own. But, until now, no committee in either the Lords or the Commons has focused specifically on the military use of Artificial Intelligence. 
UNA-UK is delighted with the development, which will translate to a significant uptick in parliamentary scrutiny on the issue of lethal autonomous weapons systems (LAWS). We specifically welcome the committee's intended focus on the UK's approach to both domestic and international policy in this area. The one-year initiative will allow for the much needed assessment of the present state of autonomous technology and the risks and prospects for deployment; an examination of existing international law in this area and the UK's role in negotiations towards a new treaty to regulate autonomous weapons systems; and an in-depth assessment on the adequacy of the Ministry of Defence's national strategy for the deployment of Al, as well as help formulate recommendations aimed at ensuring an ethical and responsible use of Al technology in weapon systems. 
Also known as "killer robots", LAWS are becoming a key issue of concern for international peace and security, with the UN Secretary-General describing machines capable of taking human life without human involvement as "politically unacceptable" and "morally repugnant". 
UNA-UK has been campaigning on this issue since 2013 and, as coordinator of the UK Campaign to Stop Killer Robots, we are calling for an international treaty to regulate and establish limits to the use of autonomous weapons systems. We hope the committee will provide an opportunity to interrogate the fundamental ethical question regarding our relationship with technology - of how far society ought to be prepared to go with respect to outsourcing military operations to algorithms, sensors, and autonomous technologies. We look forward to contributing to the important work this committee will undertake. 
Photo: The House of Lords. Taken on March 11, 2008. Credit: UK Parliament.