You are here: UNA-UK briefs parliament on Mission Justice
26 June 2018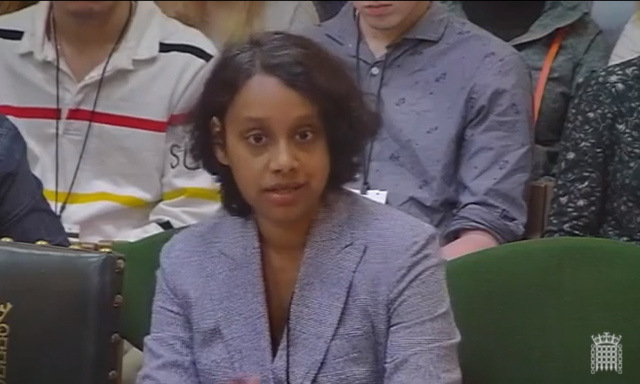 UNA-UK has both submitted written evidence and given oral evidence to the House of Commons International Development Committee's inquiry on sexual exploitation and abuse in the aid sector.
Our work on this issue forms part of our Mission Justice campaign on sexual violence in UN peacekeeping.
The written evidence looked at the lessons UN peacekeeping has learned and needs to learn, and which of these lessons could be applied to the broader aid sector.
The oral evidence is visible below, and you can read a transcript here.
Our evidence made the point that the UN has come a long way in its administration of this problem, but that criminal acts require a criminal justice-based mechanism which must come from member states:
The evidence then details trends with respect to sexual exploitation and abuse and the reasons it is hard to track, leading to the question of definitions and the reasons why, we believe, the more judicially applicable definition of sexual violence is a more useful lens for measuring the UN's response to criminal behaviour than the broader and more administrative definitions of sexual exploitation and abuse. We talk at length about the strengths and weaknesses of the UN's zero tolerance programme, before concluding:
Read our article on the UN's zero tolerance programme.
With respect to the jurisdictions that apply to UN peacekeeping, our evidence examines where responsibility for prosecution lies:
The UN Security Council's ground-breaking resolution 2272  gives the Secretary-General considerable powers to repatriate troops and bar them from participation in peacekeeping if they are unwilling or unable to seriously pursue criminal accountability. However not enough work has been done to instrumentalise the powers that the Secretary-General does have, and other powers are missing. Our evidence states:
Our evidence explains how this could be done using slight improvements to existing processes that already exist such as the listing mechanism in Security Council resolution 1612 and processes established in UN Security Council resolution 1960 on sexual violence in conflict. This is the purpose of our Mission Justice campaign.
Our evidence then considers how these lessons could be applied to the wider United Nations, in particular civilian staff, and the wider aid movement. We support the call made by various experts and NGOs for the UN to establish an independent, impartial ombudsperson with a mandate to review and oversee UN actions on sexual exploitation and abuse across all aspects of the United Nations, and we call for all sectors to consider a judicial response to the issue, rather than purely viewing the matter through an administrative lens.
Finally, we end with a call for policymakers to use firm but considered language with respect to this issue, and particularly with respect to the UN, to avoid generating complacency regarding this issue in other sectors and industries and undermining the confidence of the British public in the United Nations – an organisation that is crucial to addressing this issue:
It is therefore important that the United Nations and the humanitarian aid sector be held to account, but that in doing so, policymakers do not lose sight of the fact that sexual exploitation and abuse is a symptom of our world of unequitable power relations. The efforts of humanitarian aid workers, and of UN agencies, in addressing these inequalities are vital in helping us to move towards a world free of sexual exploitation and abuse.
Oral evidence
During the oral evidence our Executive Director, Natalie Samarasinghe, was joined by Sarah Blakemore, Director, Keeping Children Safe and Paula Donovan, Co-Director, AIDS-Free World and its Code Blue Campaign.
All three made the case for more robust action by member states. Natalie Samarasinghe stressed the political pressures that member states place the United Nations under, and the progress that the UN system has made despite those political pressures. She further called for Mission Justice's recommendations surrounding Security Council resolution 2272 to be implemented, so that member states – not the UN secretariat – take the pressure regarding troop contributions and the UN secretariat be empowered to employ consistent and objective standards.
Sarah Blakemore spoke about the commendable work Keeping Children Safe have done with their safeguarding and auditing toolkit.  Paula Donovan spoke about Code Blue's recommendation for a special courts system for UN staff and expounded upon the idea that there was an inherent conflict of interest in the United Nations leading investigation of its own personnel.
Following this session the committee heard from two former Secretaries of State for International Development Andrew Mitchell MP and Clare Short. Both called for the UK to take a leading role on this issue and suggested it was a task well suited to the United Kingdom Permanent Mission to the United Nations. By coincidence later that same day the United Kingdom Mission helped to launch the United Nations Sexual Exploitation and abuse risk management toolkit – a tool developed with the support of the British government. 
Futher information: