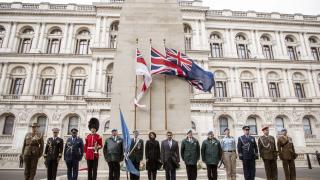 On 27 May, UNA-UK, along with the Royal United Services Institute (RUSI) and United Nations Association - Westminster Branch, held our first ever virtual Peacekeepers Day Conference.
Now in its 18th year, the annual Peacekeepers Day Conference is the UK's most authoritative public review of UN peacekeeping activities – bringing together UN practitioners, diplomats, civil society, and military personnel for a discussion of the most pressing issues in peacekeeping today. 
This year the conference focused on "Enhancing the UK Contribution to Peacekeeping". Following the publication of the UK government's Integrated Review, speakers considered how the UK might match its ambitions with action and engage more with UN peacekeeping. The session was opened by RUSI's Director General Dr Karin von Hippel and Senior Research Fellow, Paul O'Neill. 
The opening panel was chaired by UNA-UK's Senior Finance & Campaigns Officer, Bryony Pike, and featured presentations on the UK's role in Peacekeeping from Harriet Mathews CMG OBE, UK Foreign, Commonwealth and Development Office; Ivo Werneck, Strategic Force Generation and Capability Planning Cell, United Nations Headquarters; and Lieutenant Colonel Tim O'Brien, Former School Commandant, United Nations Training School Ireland.
Discussion was wide-ranging, on the vital role played by women peacekeepers, on steps that have been taken to enhance the training of peacekeepers, on capacity building of host nations security forces, and on the impact of peacekeeping missions on their host environments.
The keynote session - delivered in memory of Count Folke Bernadotte - was given by Ms Bintou Keita, Special Representative of the Secretary General, MONUSCO. Together with Dr Karin von Hippel she discussed the current mission in the Democratic Republic of the Congo, its challenges and opportunities, and how peacekeeping itself is changing.
Ms Keita underlined the importance of listening to young people, and discussed the path to more people-centred peacekeeping. She said:
Local communities provide early warning. You need good communication and understanding of local cultures. We must view local communities not as subjects - but as agents. They have knowledge, coping mechanisms and can contribute. We must trust and work with communities to ensure durable peace.
This was followed by a seminar on the future of peacekeeping, held in memory of Dame Margaret Anstee, chaired by Giovanna Kuele, Non-Resident Researcher, Igarape Institute. Speakers included Castro Wesamba, Chief of Office, UN Genocide Prevention and Responsibility to Protect; Dr Comfort Ero, Interim Vice President and Africa Programme Director, Crisis Group; and Abi Watson, Conflict and Security Policy Coordinator, SaferWorld.
The panel discussed the need for reform to not only focus on uniformed personnel. They highlighted the importance of taking a long term approach, and working with grassroots, local groups on peacebuilding. In particular on human rights, Castro Wesamba stressed: "It is critical that we strengthen monitoring, reporting, and uphold accountability." 
The conference concluded with remarks from UNA-UK's Executive Director, Natalie Samarasinghe. Noting calls for more effective inclusion and partnerships to overcome challenges, she stressed the need for all of society to work together to respond:
Nobel laureate Leymah Gbowee has said: it is the people on the ground, the people the international community is trying to save - particularly women - who have the know-how and motivation to bring about lasting solutions, working in partnership with peacekeepers and other actors.
Peacekeepers' Day memorial
In the past, representatives from over 100 embassies have attended to lay a wreath at the Cenotaph on Whitehall, marching together with military contingents and senior UK government officials, to pay their respects to fallen peacekeepers. 
While the Covid-19 pandemic meant we could not gather to mark this occasion together, we were honoured to lay a wreath at the Cenotaph. See photos of the wreath-laying below:
Read Natalie Samarasinghe's remarks
Watch the conference in full
Photo: Wreath-laying ceremony at the Cenotaph attended by UN Peacekeeping veterans, Lord Ahmad and representatives from the military and police to mark UN Peacekeepers Day. Credit: PO Dave Jenkins UK MOD © Crown copyright 2021
Photo credits: PO Dave Jenkins UK MOD © Crown copyright 2021