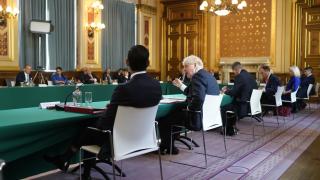 As the Prime Minister said at the UN General Assembly this September, the unprecedented crisis of the Covid-19 pandemic requires a deepening of global cooperation, and an investment in the strength of our global system.
UNA-UK is therefore concerned by plans to reduce UK aid spending from 0.7% of GNI - the longstanding global target that the UK enshrined into law in 2015.
The pandemic has placed significant financial strain on the British Government, reducing the UK's GDP by almost 12% and necessitating significant additional spending to support people and industries through lockdown, to increase the capacity of the NHS, and to deploy testing mechanisms and vaccines.
But development spending should not be seen as a competing priority. Rather, it should be seen as a vital element of the UK's COVID-19 response and recovery. As the Secretary-General has said, "none of us is safe until all of us are safe".
It is vital that developing countries receive the support they need to contain and eradicate the virus. This effort is already imperilled by rich countries buying up the overwhelming majority of vaccine stocks. The Government has announced it intends to make the fight against COVID-19 a priority area for aid spending, but the extent of the cuts to development spending cannot but impact some of the myriad and interconnected services upon which our global response to the pandemic applies.
In the longer-term, the arguments that made 0.7% a sensible, as well as moral, policy just a few years ago still stand today. In fact, they have grown more important. Development spending is an investment in the security and prosperity of the UK – from reducing risks such as extremism, to expanding trade and maintaining the UK's international standing and influence.
As research that we commissioned has shown, a number of long-term and recent developments mean that the UK's clout within institutions such as the United Nations is tightly bound up in the lead role it plays in development funding. And by its very nature, a target framed as a percentage will reduce or increase in line with GNI.
UNA-UK was pleased to hear that the UK intends to contribute to global – and national – security in other ways, for example through future increases to UK troop contributions to UN Peacekeeping – a longstanding campaigning objective of UNA-UK. But however welcome, this cannot take the place of development spending. We also note that these announcements again pre-empt the UK's Integrated Review which was intended to ensure coherence and strategic direction behind the UK's policy decisions.
We strongly urge supporters of an effective global system, and of a strong role for the UK within it, within both Houses of Parliament to oppose the proposed changes to the UK's aid target, and urge the government to develop a cohesive strategy for its international engagement with a strong commitment to a global system at its heart.
Photo: The Prime Minister Boris Johnson chairs the first Cabinet meeting after the summer recess in the Locarno Room at the FCO. Credit: Andrew Parsons / No 10 Downing Street