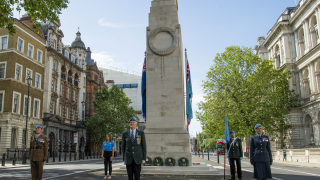 UNA-UK and partners the Royal United Services Institute (RUSI) and UNA-Westminster are today holding an online commemoration to mark the International Day of UN Peacekeeping.
The International Day of United Nations Peacekeepers, 29th May, is an opportunity to express gratitude to the 95,000 uniformed and civilian personnel serving on peacekeeping missions around the world, and to pay tribute to the almost 4,000 peacekeepers who have lost their lives in the line of duty. In the year of the UN's 75th anniversary, it is as important as ever to recognise the importance of peacekeeping and its role in conflict resolution. 
Traditionally, UNA-UK partners with the Royal United Services Institute (RUSI) and UNA-Westminster to host a one-day conference and memorial service to mark peacekeepers day. In the past, representatives from over 100 embassies have attended to lay a wreath at the Cenotaph on Whitehall, marching together with military contingents and senior UK government officials, to pay their respects to fallen peacekeepers. The conference – one of the largest of its kind in Europe – has brought together government officials, academics, and practitioners to discuss important issues surrounding peacekeeping. Unfortunately, in response to the Covid-19 pandemic, this year's event was cancelled. Nonetheless, UNA-UK has still worked with our valued partners to mark the occasion and demonstrate our continued commitment to peacekeeping. 
Earlier this week, a representative from UNA participated in a small socially distanced ceremony at the Cenotaph to pay tribute to fallen peacekeepers. They joined Wing Commander Catherine Davidson, Deputy Force Medial Officer of the Royal Air Force who had previously served on UN peacekeeping Mission in South Sudan: UNMISS, and Lt Col Steven Neville of the Royal Engineers, who has served with the UN Peacekeeping Mission in Mali: MINUSMA, who laid wreaths on behalf Her Royal Majesty's Government and Her Majesty's Armed Forces respectively. We were also honoured to be joined by two representatives of the UN Veterans Association; Tim Landy, Chairman, and John Culbert, Treasurer. Social distancing guidelines were maintained throughout the service. 
Brigadier General Maureen O'Brien, Acting Force Commander of the UN Peacekeeping mission in the Golan Heights: UNDOF, had been invited to deliver our annual Folke Bernadotte Memorial Lecture. Brigadier O'Brien has an outstanding resume in peacekeeping; having joined the Irish Defence Forces in 1981 as one of few female enlistees, she has served three times in Lebanon on UNIFIL, in West Sahara on MINURSO and in East Timor (UNTAET). Her career illustrates the manner in which Ireland approaches peacekeeping: Ireland has the longest unbroken record of contributing to peacekeeping of any country in the world, and provides an example for other European Troop Contributing Countries to aspire to. Brig O'Brien provided a video recording of her speech, covering important topics including how peacekeeping missions are reacting to the Covid-19 pandemic, the integration of women into peace and security operations, political engagement into peacekeeping operations, and more emphasis on people-centred peacekeeping. Watch the full video here.

This year marks 20 years since the UN Security Council Resolution 1325, committing to better integrate women into peace and security operations, and protect women and girls' rights which are often disproportionately violated during conflict. Since then, peacekeeping responded in various ways; there has been an increase in women within military contingents and peacekeeping police units, and more women serving in senior military roles within UN peace operations. However, there is still a lot of progress to be made. Women only make up 6 per cent of personnel in field missions, and reports of sexual and gender-based violence persist.

Today, the Secretary-General will, for the first time, award more than one peacekeeper with the 'Military Gender Advocate of the Year Award'. The recipients are Commander Carla Monteiro de Carstro Araujo, a naval officer from Brazil serving in the UN Mission to the Central African Republic: MINUSCA, and Major Suman Gawani, and Indian army major who has recently completed her mission in South Sudan 
UNA-UK have long argued that a people-centred approach to peacekeeping missions - engaging with local populations, civil society, and political parties - is a vital part of peacekeeping reform. This is particularly important as the UN looks to review its Action 4 Peacekeeping Agenda ahead of the meeting of defence ministers on Peacekeeping in Seoul in 20212. Together First's most recent report, 'Stepping Stones for a Better Future', promotes ideas based upon the work of the Effectiveness of Peace Ops Network (EPON) to promote People-Centred Peacekeeping.

UNA-UK looks forward to continuing our work in support of peacekeeping, encouraging the UK to put peacekeeping at the heart of its work and the UN to put people at the heart of peacekeeping.

Photo: Socially distant wreath laying ceremony at the Cenotaph. Credit: Sgt Donald Todd