You are here: Agenda announced for Peacekeepers' Day conference and memorial on 25 May
10 May 2016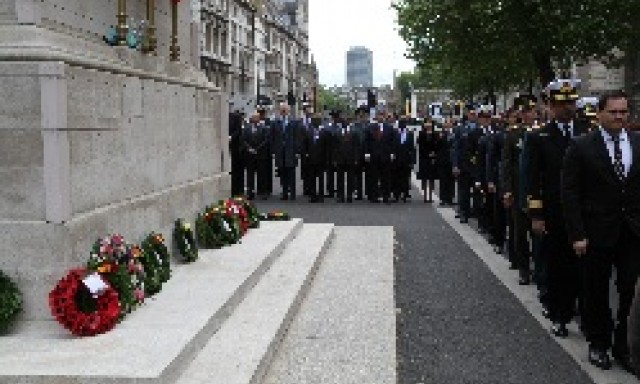 UNA-UK is delighted to announce that Jean-Marie Guéhenno, President and CEO of the International Crisis Group and former head of the Department of Peacekeeping Operations, will be delivering the Folke Bernadotte Memorial Lecture at this year's conference to mark the International Day of UN Peacekeepers. 
This annual conference, jointly organised by UNA-UK, UNA-Westminster and the Royal United Services Institute (RUSI) on 25 May, is the UK's most authoritative public review of UN peacekeeping activities. It brings together practitioners, diplomats, military and the public in an expert discussion of the most important issues in peacekeeping today.
With the UK having announced that it will host the next UN summit on peacekeeping this year, the time is right to examine the content of peace operations reform, its political and bureaucratic prospects, and the role the UK can play in driving the process forward.
The full agenda, available below, features peacekeeping experts and practitioners from around the world, including Victoria Holt, Deputy Assistant Secretary at the US Department of State and former Vice Chief of Army Staff of the Indian Army, Lt Gen (rtd) Philip Campose.
UNA-UK and UNA-Westminster are also organising our annual memorial ceremony at the Cenotaph on Whitehall, in remembrance of peacekeepers who have lost their lives in the service of global peace. Members of the diplomatic corps will be joined by UK Government officials and UN veterans to lay wreaths and pay their respects to the 3,471 peacekeepers who have lost their lives while deployed with the UN. The ceremony is free and open to the public; it will start at 1pm.
Registration for the conference
The conference fee of £15, with a special rate of £6 for students, includes related documents, morning refreshments and lunch.
Tickets for the conference are now sold out.
No registration is necessary for the Cenotaph memorial. If you are an Embassy or High Commission seeking to participate in the ceremony, please contact Genevieve Woods, woods@una.org.uk, 020 7766 3454.