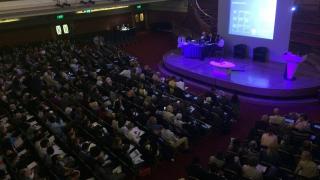 On Saturday 28 June, UNA-UK held UN Forum 2014 – one of the UK's biggest live debates on global issues – at Central Hall Westminster in London, where the UN General Assembly first met in 1946.
Over 1,000 people from across the UK joined top UN and UK policy-makers, experts, campaigners and journalists to discuss fundamental questions on security, development and human rights. Thousands more took part in the debates via social media, which saw UN Forum trending on Twitter during the day.
The event was the third in UNA-UK's series of outreach conferences, which aims to bring the United Nations to life for audiences in the UK and to discuss global issues in an accessible manner. This year's event included a strong focus on the UK's role on the world stage at a time of profound domestic and global change. It launched a year of UNA-UK action to promote public debate on foreign policy issues ahead of 2015, when the UK will hold a General Election and the international community will meet to discuss development, climate change, nuclear non-proliferation and gender equality.
During the day, participants had the opportunity to grill speakers on the following themes:
Why should the British public care about the UN?
Do nuclear weapons really keep us safe?
How should we respond to crises?
Is our approach to development flawed?
Each theme was covered from the vantage point of genuine public concern. After the sessions, the audience was asked to signal which issue was their top priority - 45 per cent said overseas aid, 40 per cent said crisis response and 14 per cent said nuclear weapons.
The day also featured two keynote speeches. Valerie Amos, UN Under-Secretary-General for Humanitarian Affairs and Emergency Relief Coordinator, used her remarks to share the stories of those affected by crises around the world, each one underlining the need for UN member states to put humanitarian issues ahead of politics and to work together to prevent crises, protect civilians and alleviate suffering. In a Q&A session moderated by journalist Jon Snow, she highlighted the conflict in the Central African Republic as a situation in dire need of international support and media attention.
In his wide-ranging speech, H.E. Dr Danilo Türk, former President of Slovenia (2007–2012) and former UN Assistant Secretary-General for Political Affairs, considered issues from Ukraine to the new international development framework, before looking at the UN's capacity to deal with an ever-growing agenda. His presentation was followed by a discussion led by UNA-UK's Chairman, Sir Jeremy Greenstock.
Sir Jeremy closed the event with a call to action. He asked participants to build on their contribution to the day's discussions by being active in connecting the 'local' with the 'global' in their own lives and communities. He urged them to show their political representatives that they care deeply about the implementation of international obligations and responsibilities. And he encouraged them to continue to engage with UNA-UK's year of foreign policy debate.
UNA-UK has used the ideas generated at the event, and by its members and supporters, to produce a foreign policy manifesto. Entitled A global force for good, it contains 10 ideas on how the UK can contribute to a safer, fairer and more sustainable world. In the coming months, we will work with our grassroots base, policy-makers and NGO partners to generate debate on these ideas and – crucially – to build support for global issues to be high on the political agenda. See www.una.org.uk/manifesto for more information.