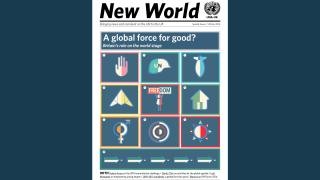 As part of our latest double issue, the Winter Special Issue looks at Britain's role on the world stage.
UNA-UK Executive Director, Natalie Samarasinghe, sets the the scene by giving her view on why we need more idealism in foreign policy at a time of turbulence in international affairs.
Much of the Special Issue covers UN Forum 2014.4, UNA-UK's flagship event held this summer. You will also find our recently launched foreign policy manifesto. Ahead of the general election next year, we've compiled 10 ways in which the UK can act as a global force for good. It even includes a handy pull-out poster, which you can use to kick-start your campaigning.