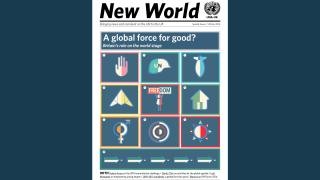 UNA-UK's new foreign policy manifesto sets out 10 ideas on how the UK can use its strengths to secure positive outcomes for the British public and the world.
Britain's global role has changed considerably over the past century, but by most measures – wealth, trade, firepower – it is still an influential country. Increasingly, this influence is channelled through its membership of the various groups and bodies that make up the international community, particularly the United Nations.
UNA-UK believes the UK can maximise this influence and be a global force for good, as a leader, a convener and an example to others. By providing leadership and expertise, the UK can support the adoption next year of a global development agenda that drives sustainable growth and builds stable, prosperous societies. By galvanising support for a robust climate agreement and resisting lowest common denominator compromises, the UK can help safeguard the environment for future generations.
The UK can also lead by example. By ensuring that its arms export practices meet the highest standards, the UK can reinforce global implementation of the Arms Trade Treaty. By striving for an unimpeachable record on human rights, it can strengthen its ability to hold other states to account, while protecting its own citizens. From greater engagement with UN peacekeeping to laying out concrete plans for nuclear disarmament, the UK can set the bar high and establish compelling precedents.
The case for acting globally
The independence referendum in Scotland produced a rare bout of genuine public debate about the future of the UK and its people in our "global world". It is clear that the multilateral networks that exist today have delivered real gains. We have more opportunities for travel, business, education, employment and relationships. We feel the ease of communication across boundaries. We benefit from international laws that do everything from protecting the rights of people with disabilities to banning ozone-depleting substances.
For better or worse, they have also made us more dependent on others. Our connectivity brings with it the potential for universal impact. Whether it is job creation in Sheffield or the health of honeybees in South Wales, the things we care about increasingly have a global dimension. Climate change, conflicts, pandemics, extremism – what happens in other countries matters to our own lives. A global world is also a smaller one.
Many governments have been slow to embrace the extent to which national and global interests now dovetail. The financial crisis made us look inwards, less prepared to put our efforts into global challenges and institutions like the United Nations, which represent our best hope for tackling them.
This shirking of shared responsibility must change. The 21st century will be dominated by challenges that require effective global action. It is essential that institutions like the UN have the tools to respond to these challenges. This is as much about political support and fresh ideas as it is about funding. Making these investments collectively will yield benefits now and in the future.
The UK has a privileged position at the UN. As a top financial contributor, it has great sway over what is spent and how. Its permanent seat on the Security Council gives it real influence, from authorising military intervention to appointing the Secretary-General. The UK is in a prime position to shape and build support for UN initiatives, to champion reform where needed, and to put forward creative proposals on how to make the UN more effective.
The UK did much to create the international laws and institutions we have today. It can best serve its national interests, now and into the future, by recognising the value of its relationship with the UN. Having shaped the global system, the UK is also better than most at navigating and developing that system.
The UK should play to its strengths and use the opportunities presented by these systems to secure positive outcomes for the British public and for the world. Your support Public engagement in foreign policy is essential. Governments must feel they have a mandate to devote time and effort to global issues. UNA-UK believes that policy-makers, the media and grassroots groups all have a role to play in stimulating interest in foreign policy and action at the global level.
We must make the case that effective international cooperation, with all its compromises, is squarely – and greatly – in the interest of people in the UK, and that we all have a stake in building a safer, fairer and more sustainable world.
People, in turn, need to have confidence in the global action being taken and in the ability of their government to deliver on its undertakings. This requires clarity of purpose as well as clarity on policy. We need a public conversation on the UK's role within the international community today, as well as on the kind of country and world that we want to build.
UNA-UK will play its part. Our UN Forum event in June launched our year of foreign policy discussions and public action on global issues. In the coming months, we will build on this, working with government, parliament, civil society groups and the media to raise the profile of global issues, making the case for an active foreign policy and generating debate around our 10 policy ideas. We will also support our grassroots members and supporters in engaging people in their schools, universities, businesses and communities across the UK. Together, we can build a critical mass of support for global issues to be high on the public agenda.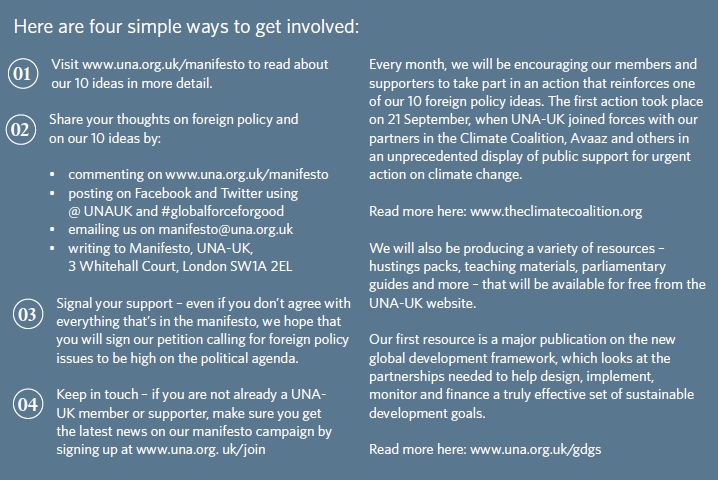 Click here for a poster detailing our foreign policy manifesto's 10 asks.