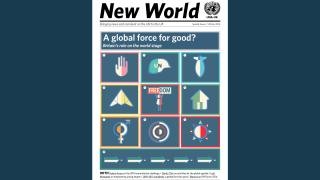 Last month the UK hosted a historic Summit to End Sexual Violence in Conflict. It was a significant milestone in the Preventing Sexual Violence in conflict Initiative (PSVI) launched by William Hague, the former British Foreign Secretary and now the Prime Minister's Special Representative on Preventing Sexual Violence in Conflict, and Angelina Jolie, the Special Envoy of the UN High Commissioner for Refugees.
From the launch of the Initiative in May 2012 the UN, and particularly its Action Against Sexual Violence in Conflict campaign, has been a key partner in shaping the Initiative's objectives. The support of the Special Representative of the Secretary-General on Sexual Violence in Conflict, Zainab Hawa Bangura, and her team has been central to the Initiative's success. Ms Bangura was central to securing a landmark declaration from G8 Foreign Ministers in April 2013 that stated that rape and serious sexual violence in conflict are grave breaches of the Geneva Convention. In addition the Declaration of Commitment to End Sexual Violence in Conflict launched at the General Assembly in September 2013, which has now been endorsed by 155 Governments, demonstrates new readiness to confront sexual violence in conflict and to introduce practical measures to respond to it.
This partnership continued at the June Summit.  The Summit delivered many outcomes, including support for the UN Trust Fund to End Violence against Women to expand their work and existing services. In addition, Somalia presented a national action plan on women, peace and security; ministers from the Democratic Republic of the Congo committed to implementing a stronger national strategy to address sexual violence; the African Union announced the launch of a pilot project in the Central African Republic to respond to the needs of victims of sexual violence; and the Libyan Government pledged funding to enact a law which recognises victims of sexual violence and their families as victims of war. Again, Ms Bangura and her team, and the other members of UN Action Against Sexual Violence in Conflict, played a critical role in delivering these achievements.
While we were pleased with the Summit outcomes, it also highlighted how much more we have to do. We are determined to build on the momentum generated by the Summit and work with those who participated to:
Implement the International Protocol on the Documentation and Investigation of Sexual Violence in Conflict. The Protocol aims to strengthen the evidential base for future prosecutions and ensure support for survivors. We hope that it will be used by actors who work with survivors in conflict affected states, in refugee and Internally Displaced Persons camps and elsewhere.
Persuade governments to incorporate the prevention of sexual violence into their military doctrine and training, including zero tolerance policies, improved military conduct and discipline and the recognition that this is a vital aspect of conflict prevention and peacebuilding.
Ensure that multilateral institutions strengthen their responses to sexual violence in conflict and to help governments to prevent and prosecute, to improve care for survivors and to provide training to improve their military and police capability.
Work with partners to reform domestic legislation to enable the prosecution of internationally-recognised war crimes, as part of wider efforts to further promote the universality of the Rome Statute of the International Criminal Court.
Ensure global recognition of the dignity, needs and rights of survivors of sexual violence in conflict, and the provision of greater support for them.
Increase support for human rights defenders, including by lifting legal and other restrictions, ensuring that violations against them are investigated promptly and impartially and to hold perpetrators to account.
Secure the formal inclusion of women in peace processes as an international norm which is implemented in practice.
Sexual violence in conflict is a complex issue with no single solution and we look forward to continuing to work with our UN partners to ensure that we see even greater political and practical progress to end sexual violence as a weapon of war.
Dr Andrew Long is a Senior Social Development Advisor with the Department or International Development. He was regional gender advisor for Middle East Programmes in DFID and has 10 years experience working on development and foreign policy in fragile and conflict affected countries. For the past two years he has been a core part of the PSVI team in the FCO, leading policy advice in support of both the political and practical dimensions of PSVI delivery