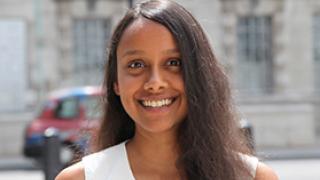 Can Britain still cut it on the world stage? This was the theme of UNA-UK's UN Forum on 28 June 2014 in Central Hall Westminster, which saw 1,000 people from all walks of life gather in London to discuss pressing global issues.
The title was deliberately provocative, intended to spark debate on Britain's role in the world at a time of introspection on these shores, with a general election due after a referendum on the future of Scotland within the UK. The date and venue were significant too. The centenary of the assassination that spiralled into the First World War and the site of the first meeting of the UN General Assembly reinforced the urgency of supporting our international system at a time of increasing global volatility.
The event sought to highlight the connections between national and global issues: the impact of public opinion on government support for the UN; the extent to which national decisions on nuclear weapons affect the global threat environment; the security consequences of responding, or failing to respond, to humanitarian crises; and the benefits that international development can bring to rich and developing countries alike.
This Special Issue of New World captures the essence of the Forum, with summaries of each debate, drawing in questions and comments from the floor. It also features abridged versions of the speeches by Valerie Amos, the UN's humanitarian chief, and Danilo Türk, former President of Slovenia.
Throughout the day, one key point emerged: building a safer, fairer and more sustainable world is in our national and collective interest.
What of the central question? Ahead of the event, UNA-UK asked students working with the Social Mobility Foundation whether Britain can cut it on the world stage. Like UNA- UK, they conclude that it can, for the most part.
We often speak about Britain punching above its weight. There is a sense of pride in this statement. For centuries, this small island has played a global role. There is some insecurity too, of a country recalibrating its place as world power shifts.
Despite a narrative of decline, Britain remains, by any objective measure, a powerful country. Wealthy and well connected, it continues to be a leading military power and an influential diplomatic actor. But how big a global role can – and should – Britain play?
This century is likely to be dominated by challenges that no one country can solve alone, from climate change to terrorism to pandemics. The UN can provide the platform and the tools for solutions but states must take the necessary decisions. They must support the UN and invest in it, not just when they need it in the short term. Not many have been rushing to the fore.
Since the global economic downturn, the narrowing focus of governments has been a recurring theme for UNA-UK. Preoccupied by domestic concerns, thrown off guard by the pace of global change, they have seemed less willing to respond to global problems, let alone provide leadership at the UN.
This trend has not dissipated but the events of this year appear to have been a wake-up call. In the West, the prospect of conflict in Europe, of 'home-grown' extremists and infectious diseases hitting world cities has made our fragile interdependence painfully clear. But there is some way to travel from recognition to action.
Western countries increasingly call on emerging economies to shoulder more global responsibility. Their involvement is certainly necessary, not just in terms of burden sharing, but also to support the legitimacy of collective action. However, as Mike Gapes MP pointed out in the Forum debate on responding to crises, it will be some time before China has a power projection to match that of the US, and some time before it is likely to be willing to play a leading global role. It will be some time before countries like Brazil, India, Nigeria and Qatar have diplomatic and military capability on par with the UK. The states vying for new permanent seats on the UN Security Council are often wary of robust action. Which countries can provide the leadership we need?
We at UNA-UK believe the UK is one of those countries. Britain has not been immune to the trend of looking inwards, nor do its own policies always reflect international standards. Like all countries, it keeps its national interest firmly in mind at the UN. However, it continues to be an active player internationally. Despite economic concerns and the military campaigns of the last decade, the idea that the UK should play a global role has never gone away.
What form should this role take? At UN Forum, UNA-UK launched a year of debate on this question. We have now released a foreign policy manifesto, which sets out 10 ideas on how the UK can be a global force for good, as a leader, a convener and an exemplar.
By providing leadership and expertise, the UK can support the adoption of global development and climate frameworks. It can set the standard for atrocity prevention by ensuring its policies are geared to early warning and responsive to threat indicators.
As a convener, the UK has demonstrated that it can bring states together to discuss joint action on issues such as sexual violence in conflict and tax evasion. It is widely admired for its ability to solve problems and guide resolutions through the Security Council. It can play a crucial role in bridging different constituencies – whether that is promoting dialogue between the nuclear powers and other states, building cross-regional support at the UN Human Rights Council, or persuading countries, as it has in the past, to support arms control treaties.
And the UK can serve as an example of best practice. By ensuring that its arms export practices meet the highest standards, the UK can reinforce global implementation of the Arms Trade Treaty. By striving for an unimpeachable record on human rights, it can strengthen its ability to hold other states to account, while protecting its own citizens. From greater engagement with UN peacekeeping to laying out concrete plans for nuclear disarmament, the UK can set the bar high and establish compelling precedents.
Are our ideas ambitious? Yes. Are they principled? Yes. Idealistic? Only if we are ready to abandon the global standards we have worked so hard to create, and willing to accept that we cannot address the challenges we face. It is precisely at times of rapid global change that we need to support our international system.
All our ideas are backed by clear recommendations for specific action. For the most part, they are modest, requiring political will and effort, not vast amounts of funding. These are small steps towards larger objectives.
It is important, though, that we keep these objectives in mind. We need an injection of idealism in foreign policy. Successive UK governments have underscored the importance of dealing with the world as it is, not as we wish it to be. This is undoubtedly true but without a compelling vision, foreign policy risks, at best, preserving the status quo.
Vision has practical benefits. Maintaining stability in a region without addressing the causes of instability can only ever be an interim measure. Instead of simply managing a conflict situation, an idealist will work backwards from the desired results, which could yield very different approaches in terms of what is prioritised on the ground.
Crucially, vision can also encourage public support. For any government to deliver a foreign policy agenda, however much it is in the country's interest, it must feel that it has a mandate from the public.
The Scotland referendum provoked a rare bout of genuine debate about the UK's place in today's world. People are clearly responsive to a positive vision for the future. Foreign policy is unlikely to be top of the election agenda, but UNA-UK hopes that the coming months will be an opportunity to discuss not just what kind of country we want to be, but what kind of world we want to build. This must include a healthy, effective and widely supported United Nations.