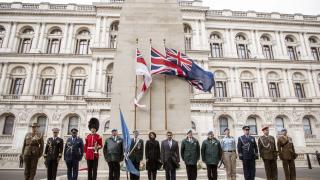 UNA-UK is pleased to announce details of our annual ceremony and conference, commemorating the International Day of UN Peacekeepers on 26 May 2022.
Tickets for the online conference are on sale now - please click here and book your spot as soon as possible, to avoid disappointment.
Peacekeepers' Day conference
This conference, jointly organised by UNA-UK, UNA Westminster and RUSI, is the UK's most authoritative public review of UN peacekeeping activities – bringing together UN practitioners, diplomats, military personnel and the public for an in-depth discussion on the most pressing issues in peacekeeping today.
This year our series of panel sessions feature peacekeeping experts and practitioners from around the world, including: Cedric de Coning, Anjali Dayal, Guy Bennett, Dr Walter Dorn, Dr Georgina Holmes, Brig (Rtd) Sarah Sharkey, as well as UNA-UK's CEO Marissa Conway and Chair Baroness Anelay. 
We are delighted to be joined this year by Jean-Pierre Lacroix, UN Under-Secretary-General for Peace Operations. As our conference keynote speaker, Mr Lacroix will deliver the Folke Bernadotte Memorial Lecture - discussing the A4P+ initiative in conversation with Dr Karin von Hippel, RUSI Director-General.
Conference Registration
This year's conference will take place online. Tickets to join us for this in-depth discussion are available now. Conference tickets are on sale now for a standard fee of £30, with additional student tickets available at the special reduced rate of £10. 
To avoid disappointment please book your tickets as soon as possible, by clicking here.
Peacekeepers' Day memorial
Our annual memorial ceremony in remembrance of peacekeepers who have lost their lives in the service of global peace will also take place on 26 May.
Following a restricted format in recent years, due to the Covid-19 pandemic, this year we will once again host a dignified ceremony at the Cenotaph on Whitehall with embassy representatives marching together with military contingents and senior UK government officials, to pay their respects to fallen peacekeepers.
This is a unique and important opportunity to pay our respects to the nearly 4,200 peacekeepers who have lost their lives serving under the UN flag since 1948. 
If you are an Embassy or High Commission seeking to participate in the ceremony, please contact us at info@una.org.uk as soon as possible.
Photo: Wreath-laying ceremony at the Cenotaph attended by UN Peacekeeping veterans, Lord Ahmad and representatives from the military and police to mark UN Peacekeepers Day 2021. Credit: PO Dave Jenkins UK MOD © Crown copyright 2021