You are here: Interview with Fakhraddin Gurbanov, Ambassador of Azerbaijan to the UK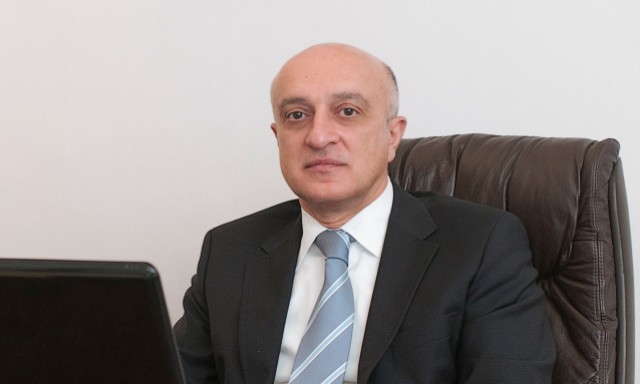 New World's editor, Hayley Richardson, interviews His Excellency Fakhraddin Gurbanov, Ambassador of Azerbaijan to the UK
Azerbaijan is a relatively new member of the community of nations, having joined the UN in 1992. What has been your country's greatest achievement so far?
Gaining a non-permanent seat at the UN Security Council just 20 years after independence speaks for itself, and clearly demonstrates the progress Azerbaijan has made since the collapse of the old Soviet political and economic system. Today Azerbaijan is a reliable and trusted member of the international community, strongly contributing to efforts to preserve peace and security. At home, Azerbaijan enjoys stability in a relatively volatile neighbourhood. Abroad, Azerbaijan has strengthened its relationships with many regions and has taken an active role in a number of regional and international organisations. The experience gained during two years at the Security Council will undoubtedly contribute to our engagement in international affairs in the years ahead.
What were your country's priorities for its 2012–13 term on the Security Council?
Addressing the UN in 2012, President Ilham Aliyev stressed that Azerbaijan would stand for international law, norms and justice at the Security Council. Unfortunately, the non-implementation of Council resolutions adopted in 1993 calling for the withdrawal of Armenian armed forces from the territories of Azerbaijan, has led some to question the credibility of the organisation. We saw our term as an opportunity to address this.
During Azerbaijan's presidency of the Council in May 2012, we organised a high-level meeting to explore ways to strengthen cooperation in the fight against international terrorism, and in October 2013 held a special session on the issue of strengthening cooperation between the United Nations and the Organisation of Islamic Cooperation (OIC). We also paid attention to development issues, in particular those facing Africa, and arranged a tour to Africa's Great Lakes region. This was an excellent opportunity for ambassadors to witness at first hand the challenges and threats on the ground.
Given the changing nature of global politics, how did these priorities shift in response to international events?
Emerging crises and unforeseen developments around the world of course entail inevitable changes in plans. Over the past two years a range of crises, such as those in Syria, Mali and South Sudan, have been on the Council's agenda. In fact, most of its time and resources have been devoted to putting an end to those crises.
It is right that issues of great urgency, in particular, conflicts, are given high attention and consideration. But I am proud to say that our key priorities, including terrorism, cross-cultural dialogue and UN-OIC cooperation, received due attention, and that progress has been made to advance these topics.
What is Azerbaijan's position on the perennial issue of Security Council reform?
I believe there is a general consensus on the need to reform the UN system, in particular the Security Council. Difficulties arise when it comes to how to enact that reform. Azerbaijan stands for full and comprehensive UN reform based on the broadest possible consensus. A new UN system, and in particular the Security Council, should include broader geographic representation and improved working methods to enable it to respond to new challenges swiftly and efficiently.
The Security Council has faced gridlock over the Syrian crisis. How does a non-permanent member, or smaller-sized state, make an impact on such an issue?
It is unfortunate that the Security Council has failed to take concrete actions to end the Syrian crisis. There have been welcome developments, such as the agreement on destroying Syrian chemical weapons, and the presidential statement, adopted under Azerbaijan's second presidency, calling for greater humanitarian access.
Small or non-permanent member states bring their own regional expertise and experiences to such situations, and are crucial to ensuring that any agreements reached at the Council enjoy the broadest possible support. On the Syrian crisis, we have called for a peaceful political settlement. Azerbaijan is close to Syria geographically, culturally and historically and we have much to contribute to the discussions.
How can the UN become more effective in preventing gross violations of human rights?
Gross violations of human rights are of course a matter of great concern. Continuing crises around the world, from the Middle East to Africa, highlight this necessity. It is important that the governments directly involved take all actions necessary to protect civilians and their fundamental rights.
When it comes to the UN, the recently adopted "Rights up Front" strategy – an important step in the right direction – calls for a swift and early reaction to gross human rights violations. It is important that the UN stands ready in terms of capacity and resources to take the lead in protecting civilians.
What more could be done by states to support the UN's humanitarian work?
The swift and efficient delivery of humanitarian aid to disaster-hit areas is a challenging task for the international community. The role of the UN system is critical to achieving this task. Member states are also closely involved in this field, and I believe that as their resources and capacities increase, states should shoulder more responsibility in helping the UN's humanitarian aid efforts globally.
Equally important is the coordination of such efforts, particularly with those organisations that are actually based in the affected area. The Azerbaijan International Development Agency carries out wide-ranging projects in many regions and is expanding joint operations with other humanitarian stakeholders.
As a country rich in oil and gas, what are Azerbaijan's hopes for the Sustainable Development Goals currently being discussed at the UN?
Experiences learned during the Millennium Development Goals should guide all of us throughout discussions for the post-2015 development agenda. The focus should be on poverty reduction, capacity-building assistance to developing states, in particular the least developed countries, trade liberalisation and new mechanisms of financing development.
Azerbaijan is an energy rich country that takes environmental issues seriously, but we are also thinking about ways to move the economy beyond its traditional energy basis in the future. Azerbaijan has a state agency for renewable and alternative energy with pilot projects well underway and ambitious plans to increase the share of renewable energy in the overall mix.
Finally, on a lighter note, would the UN be better off if its headquarters were in Azerbaijan?
A very interesting question. This would be a dream come true situation, but of course dreaming is always the first step on the road to achievement. Realistically, as we witness a shift to the East in economic and geopolitical affairs, one cannot exclude the possibility of some international organisations being headquartered in the region. Hopefully we will see at least one UN specialised agency headquartered in Baku in the future.
Fakhraddin Gurbanov has been Ambassador of Azerbaijan to the UK since 2007. He is a career diplomat and has held a number of posts including, Ambassador to Canada (2004–07) and consul in Washington D.C. for two terms during 1993–2001.