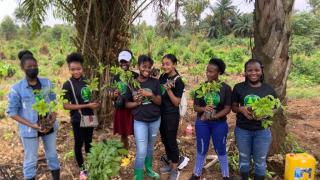 UNA-UK speaks to Leah Namugerwa
Days after she celebrated her 17th birthday by planting 700 trees, we spoke to Leah Namugerwa - a climate activist and team leader for Fridays Future Uganda - about her hopes for the upcoming UN climate change conference (COP26) and the importance of individual action.
The majority of people still are not aware of climate change and some don't seem to mind - they just live each day as it comes. Governments, meanwhile, tend to choose profits over the safety of humans, over the ecosystem and biodiversity. They give us false hope. We keep thinking, after this pledge, something will be done. But it seems like we are waiting for the worst to come.
Young people have shown the world that we can get things done - at times better than adults. The world is changing very quickly and we are used to managing this pace of development. That's why organisations should have youth representatives on their governing bodies, that's why young people should be involved in climate negotiations. We understand the needs of young people. We have the biggest stake in the future.
Individual climate action plays a critical role in achieving structural change. It is an end in itself and also inspires collective action. I do weekly shore clean-ups with my team members at Fridays for Future. Every time we show our faces, we see other people joining in. We have noticed that it has changed their behaviour in terms of littering and polluting the lake.
'Birthday trees' is a project I started when I turned 15, after realising that deforestation was a major cause of the landslides in Bududa.
I thought I should do something, instead of crying to the government for solutions. So instead of cutting a cake, I planted 200 trees. The next year, it was 500. And now, for my 17th birthday, I planted 700 trees with my friends - it was actually fun!
Imagine if everyone made this their birthday custom: we could restore the lost glory of our amazing forests. Anyone who can't plant in their own countries should contact me. I will plant on their behalf. I also want to bring in companies and organisations - and everyone who interviews me. I expect you to plant after this!
My hopes for COP26? Fast and consistent action. I don't want empty promises or policy agreements like in 2015. I want governments to say how they are going to force immediate action: how they are going to accelerate phasing out fossil fuels; how they are going to increase implementation of renewable energy; and the roles of countries, companies and individuals in prioritising climate action. We have seen a lot of writing, a lot of speaking. This time round, we need to see all of this applied for the well-being of our planet.
It's not too late. There is still hope. We don't have to give up just like that without fighting. Adults need to have the discipline to put more pressure on policymakers, to boycott harmful products, to have the audacity of treating this crisis as a crisis, and to know their responsibilities to nature.
I want everyone to know: you have the ability to bring about positive change. The climate crisis is truly a nightmare. I'm living a nightmare. I'm feeling the consequences. This is what I carry with me, everywhere I move. I feel like everything depends on me, everyone is counting on me. So I want everyone to have that mindset: your future depends on you so do something about it!
Inspired by this interview, UNA-UK has made donations to Eden Reforestation Projects and called on its members - and staff - to plant trees in their communities.
Photo: Leah Namugerwa and friends with some of the 700 trees planted in August for her 17th birthday. Credit: Leah Namugerwa.